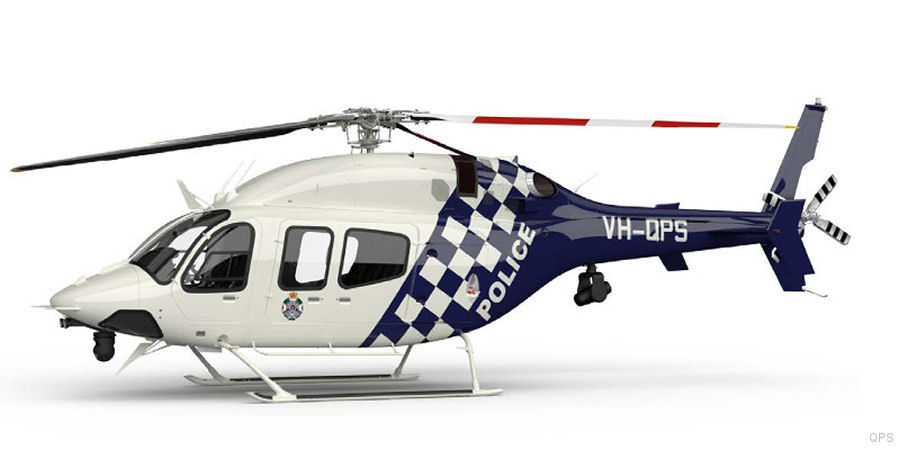 Bell, July 12, 2022 - Fort Worth, Texas – Bell Textron Inc., a Textron Inc. company, announced the selection of three new Bell 429 helicopters for the Queensland Police Service's POLAIR fleet.

The aircraft, which will be an expected delivery of fourth quarter 2023, will be used to patrol southeast Queensland and support crime fighting efforts in the community.

The acquisition of three new Bell 429 helicopters was part of a new long-term contract that the Queensland Police Service signed with Surf Life Saving Queensland (SLSQ), a not-for-profit Queensland organization, to operate vital POLAIR aerial capabilities through 2034.

"The selection of the Bell 429 by the Queensland Police Service reinforces the Bell 429's reputation as the next-generation law enforcement helicopter. The Bell 429 has proven its capability to meet the rigorous demands of police aviation units across the globe with demonstrated high availability rates and safety metrics," said Jacinto Monge, managing director, Asia Pacific, Bell.

"We look forward to working with our partners SLSQ and Jet Aviation Australia to ensure a smooth entry into service and seeing the POLAIR Bell 429s serving Queenslanders."

In January, the Bell 429 surpassed 500,000 global fleet hours and continues to showcase its versatility throughout corporate, HEMS, law enforcement and utility missions. Today, more than 400 Bell 429 aircraft serve an array of customers, offering operators large cabins, intuitive displays and excellent performance.

The twin-engine platform is relied on by law enforcement agencies and search and rescue organizations like the Canadian Coast Guard, Indonesia National Police, New York Police Department, Royal Thai Police, Swedish National Police and many more. In Australia, the Queensland Police Service will join the New South Wales Police as Bell 429 operators, with the latter launching operations of their three new Bell 429 helicopters last year.

With an easily configurable cabin, the Bell 429 can be equipped with law enforcement mission-specific features including an infrared camera, searchlight, removeable and sliding doors, wire strike protection system, optional auxiliary fuel tank, fast rope insertion/extraction system and an equipment operator station with one or two state-of-the-art tactical displays.



A very capable and nice helicopter ! Good choice :-)
Good looking aircraft.




QPS,POLAIR

Queensland Police
Australia Police
429 in

Australia Police
Three Bell 429 for Queensland Police