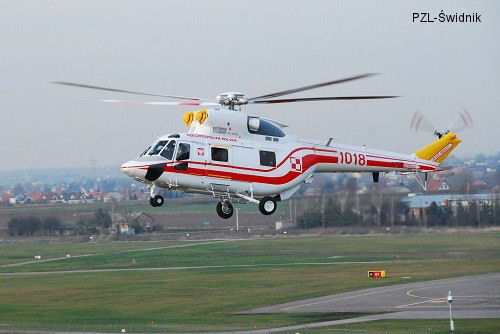 PZL-Swidnik, December 23, 2013 - PZL-Świdnik, an AgustaWestland company, is pleased to announce it has delivered the fifth and final VIP transport Sokol helicopter to the Polish Air Force.

The aircraft joined the other four Sokols already in service with the 1st Airlift Base in Warsawon 23rd December. All five helicopters, which have been delivered to the Polish Air Force this year, are being used to transport senior military and government personnel.

Nicola Bianco, Managing Director, PZL-Świdnik said: "It is a great pleasure to complete the delivery of the five Sokols in VIP configuration to the Polish Air Force. We are very pleased that the Świdnik-produced Sokol helicopter was selected to fulfil the Polish Air Force's important task of transporting Poland's high-ranking officials."

He added, "With the delivery of Sokols, which were tailored to meet the requirements of the Polish Air Force, we have demonstrated our reliability and willingness to satisfy the Polish customer's needs. We look forward to further expanding our long-standing cooperation within the Polish Armed Forces' major helicopter programmes."

The Świdnik-produced Sokols in VIP configuration are among the best equipped aircraft in the Polish Air Force fleet. The helicopters are capable of carrying up to 8 passengers plus 2 pilots. The passenger cabin, which features a modern and elegant Italian designed interior made with high quality materials, was customised to provide high level of passenger comfort, whilst the advanced avionics in the cockpit reduce pilot workload and improve the pilot's spatial awareness for increased safety.

The cabin is also equipped with an audio system integrated with the helicopter's systems, that allows passengers to communicate internally and externally via a dedicated mobile telephone system. The cabin is equipped with additional sound proofing which provides a low noise environment in the cabin for increased passenger comfort.

The aircraft are equipped with an advanced GPS-based navigation system that includes an obstacle database and a weather radar system. Together these systems provide the pilot, via LCD cockpit displays, with greater awareness of terrain and adverse weather, thereby improving safety in severe weather conditions.

The delivery is a part of a contract concluded with the Polish Ministry of National Defence in 2011.

About Sokol helicopter: The W-3A Sokol is a twin-engine helicopter with a maximum take-off weight of 6,400 kg that is capable of carrying up to 14 people, as well as cargo internally or externally. The helicopter is a highly effective and reliable aircraft capable of operating in all climates and weather conditions, day or night. The combination of high performance with exceptional role flexibility enables the helicopter to perform a wide range of missions including passenger transport, troop transport, law enforcement, air ambulance, search and rescue, fire fighting and other utility roles. The helicopter has a four blade main rotor and three blade tail rotor. All blades can be equipped with electrical heating elements to allow it to operate in icing conditions. Power is provided by two PZL-10W turboshaft engines with each rated at 662 kW for take-off.
W-3 Sokol in

Wojska Lądowe