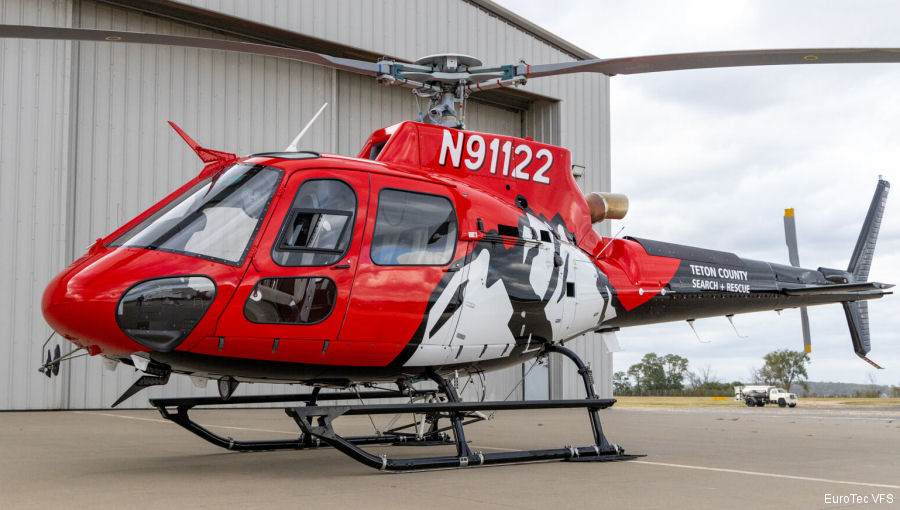 EuroTec, October 26, 2023
- Eudora, Kansas - EuroTec Vertical Flight Solutions, a helicopter sales and service center, is pleased to announce the delivery of a brand new custom completed aircraft to Teton County Search and Rescue (TCSAR) based in Jackson Hole, Wyoming.
Since it was founded in 1993, Teton County Search and Rescue has never had its own year-round SAR-dedicated helicopter. For many years, the team contracted a helicopter based on need.
Experiencing a recent surge in emergency calls, TCSAR launched the "Mission Critical Campaign," a fundraiser to purchase a custom completed brand new Airbus H125 Helicopter that will address the growing year-round demand for rescue operations.
Cody Lockhart, TCSAR chief advisor
said "The new H125 helicopter comes at a time when Teton County Search and Rescue continues to see a high volume of rescue calls, within and outside our county. Having a rescue-ready helicopter year-round can be the difference between life or death for locals and visitors alike. We are incredibly grateful to our entire community and partners for helping to make this vital rescue tool a reality for Teton County."
The completion process showcased EuroTec's unique expertise in helicopter modifications and its close relationships with original equipment manufacturers (OEMs), enabling them to offer a comprehensive list of options to enhance the H125's capabilities.
From its original factory green color to a custom-designed red exterior with a mountainscape paint scheme, the end result is a state-of-the-art aircraft equipped for the challenging search-and-rescue missions required in Wyoming's rugged terrain.
Key features and enhancements of the customized H125 include:
BLR FastFin
Swiss Rotor Services/
Maximum Pilot View Kit
AKV DCS1100 Engine Monitoring System with FLI Repeater
Boost HEC
System
Onboard Systems
Cargo Hook with Load Cell
Vertical Flight Solutions Advanced
TB20 Li-Ion Battery Kit
with MD23 Flex Clock/Battery ACU
Eurotec Custom, Reduced Instrument Panel with Modified LH Entablature Structure
PS Engineering Dual
PAC45A
Audio Panels with PAC45AR Remote Hub
TDFM 9000 Multiband Radio
Rear Audio Enclosure with USB's
Astronics Max-Viz Enhanced Vision System
Rugged Video HD19 Camera
Centum
Lifeseeker SAR – Airborne Phone Locator
Garmin GSR 56 Satellite Datalink
Garmin GRA 55 Radar Altimeter
Avidyne
TAS605A Traffic System
U.S. Forestry
GPS, Audio and Com Provisions
Spidertracks
Spider X Satellite Tracking System
Eurotec Collective Guard
Dart
Removable Litter Kit
Dart Cargo Basket
Dart Bearpaws and Wear Plates
Dart Wirestrike Kit
Dart Rear Baggage Extender
Airbus Cargo Mirror
Luminator LS-400 Searchlight
Custom 3-Color Paint Scheme with Ceramic Coating
What sets EuroTec apart is its commitment to quality, with all modifications and enhancements completed in-house by the EuroTec team. This hands-on approach ensures that every detail is meticulously crafted to meet the highest standards of safety and performance.
Chad Decker, president of EuroTec
said "Delivering this custom-completed H125 helicopter represents a significant milestone for Teton County Search and Rescue. We're honored to have played a crucial role in supporting their mission. We are thrilled to witness the positive impact this aircraft will have on their life-saving efforts"
About Vertical Flight Solutions : Vertical Flight Solutions (VFS) by EuroTec is an engineering company formed in 2019 to design and integrate the latest new technology into legacy fixed-and-rotary wing aircraft. As an innovator, we are led by a group of engineers with many years of practical experience in the Aerospace Industry. Our success to date is based on our persistent determination to be leaders by design, where we transform new ideas into a reality through brilliant engineering. We show our clients how "the possibilities of tomorrow can be achieved today." Vertical Flight Solutions main focus is the design and installation of Lithium-Ion Battery kits in rotary wing aircraft.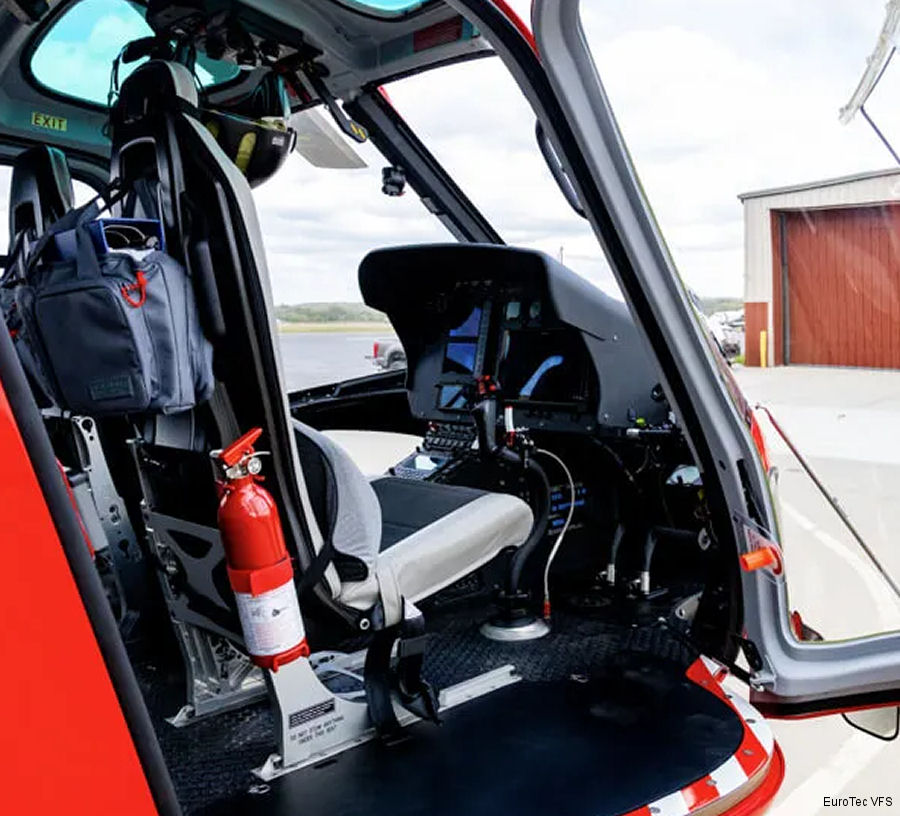 Teton SAR H125 cockpit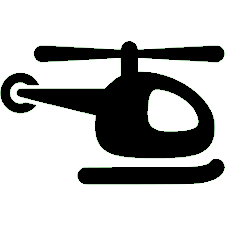 Aircraft mentioned in this article :
H125 N91122 ( State of Wyoming )



Location :

Teton County SAR





TCSAR

Teton County Search and Rescue
State of Wyoming

EuroTec VFS
State of Kansas
Airbus H125