Mexican Navy in Tradewinds Exercise off Belize


British, Canadian and Mexican Navies participated in the U.S. Southern Command-sponsored annual Tradewinds exercise conducted off Belize coast

US Navy, June 20, 2015 - OFF CALABASH CAY, Belize - Participating nations in the annual Tradewinds exercise here conducted a vessel boarding, search and seizure operation yesterday aboard the British ship HMS Severn.

The boarding team from the Mexican navy ship Independencia conducted the seizure while observed by the Belizean coast guard from an attending patrol boat and a Panther helicopter crew from the Mexican navy.

After a pursuit in an interceptor boat at speeds exceeding 20 knots in rolling seas, the eight-man team boarded the British ship swiftly. Once aboard, the team simulated arrests of a group of merchant mariners who tried to resist.

After completing the exercise, the Mexican boarding team returned safely to their ship, in spite of worsening conditions as the seas continued to rise, with swells in excess of 6 feet.

"Even though we weren't able to conduct all the scheduled events due to weather conditions, the day provided great practice for my crew on these types of operations," said Cmdr. Dioniso Coromeno, commanding officer of the Mexican ship.

The combined, joint U.S. Southern Command-sponsored exercise strengthens the capacity of Caribbean nations to respond to natural disasters, humanitarian crises and counter transnational organized crime.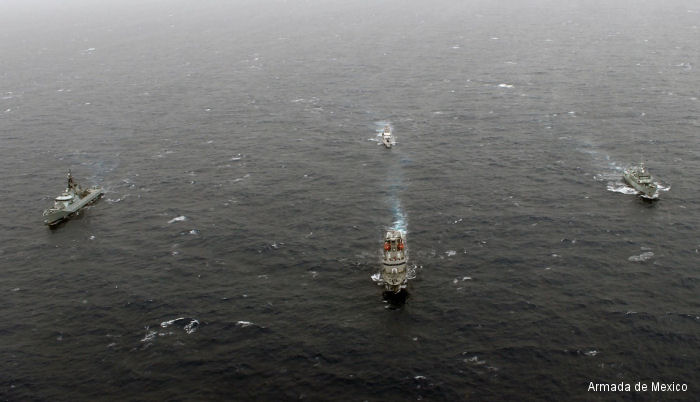 This article is listed in :
Eurocopter AS565MB Panther in

Armada de Mexico

HMS Severn ( P282, River class )


HMCS Glace Bay ( MM 701, Kingston class )


ARM Independencia ( P-163, Oaxaca class )


USCGC Paul Clark ( WPC-1106, Sentinel class )