Turkish Police Bell 429 Training in Palm Beach


Palm Beach Helicopters in Florida renewed contract first signed in 2007 with the Turkish National Police to train helicopter pilots

Palm Beach Helicopters, March 19, 2018 - West Palm Beach, Florida, USA - Today Palm Beach Helicopters will continue its ten year relationship with the Turkish National Police (TNP) having been awarded a new contract for training seven helicopter pilot candidates.

Each candidate will receive private, instrument, and commercial training.

Current President and owner Dan Crowe stated "We have been providing training to the TNP since 2007 and are looking forward to this new group of recruits. In our recent visit to Turkey we were proud to see our former graduates at their bases in Ankara and Istanbul flying the Bell 429."

About Palm Beach Helicopters: Palm Beach Helicopters is an FAA 141 approved flight school with examining authority having 141 approved courses for private, commercial, Instrument, CFI, CFII, ATP, added category and class private and commercial, Night Vision Goggles Initial, recurrent, and Instructor, External Load, and Turbine Transition.
Palm Beach Helicopters is approved for Veterans and by SEVIS for nonimmigrant foreign students.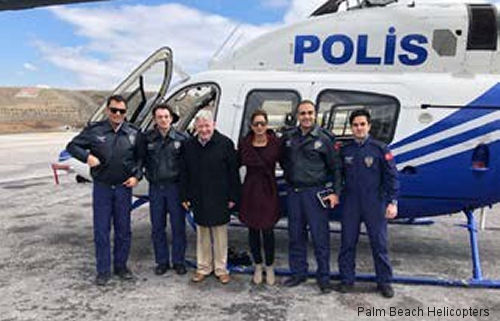 This article is listed in :
PBH

Palm Beach Helicopters
State of Florida
Bell 429 in

Polis Havacilik Daire Baskanligi
--Helicopters Flight School - Training Civilian