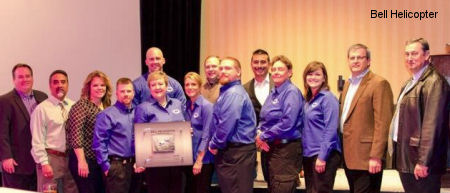 Bell Helicopter, November 26, 2013 - Forth Worth, TX - Bell Helicopter, a Textron Inc. company, congratulates San Antonio AirLIFE for transporting its 50,000th patient, a milestone reached this quarter.

Bell Helicopter is celebrating AirLIFE's accomplishment at the 2013 Texas EMS Conference, in Fort Worth, Texas, Nov. 24 -27.

Anthony Moreland, managing director of North American sales for Bell Helicopter presented San Antonio AirLIFE with a plaque commemorating the historic achievement on the evening of Monday, November 25.

"This milestone is a direct reflection of the dedicated service, and commitment to excellence from the men and women of the San Antonio AirLIFE organization and our close partnerships with the Air Methods Corporation and Bell Helicopter," said San Antonio AirLIFE President and CEO Shawn Salter. "On behalf of our owners, the Baptist Health System and the University Health System, we express gratitude to our staff for their safe transport of each of these patients and to our EMS and Hospital partners for entrusting us with those they have cared for. This milestone reinforces our commitment to the citizens of San Antonio and south Texas and shows we will be there when we are needed in the future."

San Antonio AirLIFE is the premier air medical transport service in Southwest Texas. Founded in 1990, AirLIFE operates a fleet of Bell 407 and 430 aircraft twenty-four hours a day to provide rapid transport and superior medical care to patients requiring critical care in more than 20 counties within a 150-mile radius of San Antonio.

According to Salter, AirLIFE operates the Bell aircraft because their size, speed and range are ideal for air medical critical care operations. The Bell 407 can be configured for critical care operations with a spacious 85 ft³ cabin and a bi-fold door opening to 61-inches, allowing for quick and easy patient loading and unloading. It provides superior performance under extreme conditions and offers a cruise speed of 140 knots (259 km/hr). "That means patients arrive to tertiary care facilities faster, and our crews can return to service more quickly, increasing our availability for additional calls," he said.

A 501(c)(3) not-for-profit entity, San Antonio AirLIFE is jointly owned Baptist Health System and the University Health System. AirLIFE is dedicated to safety, rapid transport, and superior medical care of patients requiring critical care 24 hours a day.

About Bell Helicopter: Bell Helicopter, a wholly owned subsidiary of Textron Inc., is an industry-leading producer of commercial and military, manned and unmanned vertical-lift aircraft and the pioneer of the revolutionary tiltrotor aircraft. Globally recognized for world-class customer service, innovation and superior quality, Bell's global workforce serves customers flying Bell aircraft in more than 120 countries.

TXAirLife

San Antonio AirLIFE
State of Texas