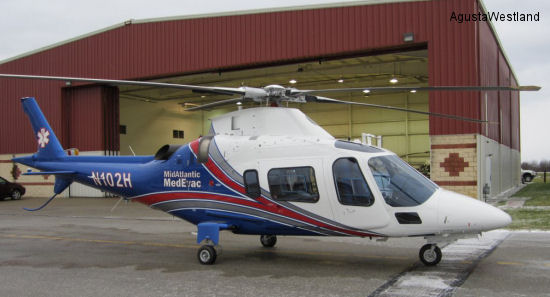 AgustaWestland, October 22, 2013 - AgustaWestland, a Finmeccanica Company, has named Uniflight an Authorized Service Center for AgustaWestland aircraft operating in the United States.

With this agreement, Uniflight becomes AgustaWestland's newest service center in the United States and is authorized to perform periodic airframe maintenance inspections on all AW119 single engine and GrandNew light twins.

This authorization also allows Uniflight to perform after-market airframe services and administer warranty support on behalf of AgustaWestland.

"Uniflight has developed a compelling set of service solutions in its Belle Vernon, PA location, known as Uniflight-West Penn. Its recently renovated facility along with this Authorized Service Center Agreement with AgustaWestland will enable AW119 and GrandNew operators to continue to receive outstanding airframe support as their aircraft undergoes maintenance," said John Ponsonby, Senior Vice President Global Customer Support and Training, AgustaWestland.

"Working as an AgustaWestland Key Supplier since 2011, we are extremely gratified to have obtained this authorization," said Dan Mansfield, GM and Accountable Manager of the Uniflight-West Penn repair station. "This new agreement demonstrates that AgustaWestland values the manner in which we have served them as a customer, and they are confident in our quality and maintenance capabilities to support our common customers' aircraft."

Joe Hawke, Chairman and CEO of Uniflight added: "Uniflight values greatly its relationship with AgustaWestland. We look forward to being a reliable source of aftermarket service and support for the AgustaWestland fleet operators throughout North America."

Uniflight, LLC is headquartered in Grand Prairie, Texas and is the premier provider of maintenance, repair, overhaul, aircraft program management and completions for both helicopter and fixed wing operators.

Uniflight is a network of FAA Certified Part 145 repair stations and is also EASA and DGCA certified. In addition to the Uniflight-West Penn facility in Belle Vernon, Pennsylvania, additional facilities are in Reading, Pennsylvania and Grand Prairie, Texas.

AgustaWestland Philadelphia
AgustaWestland USA