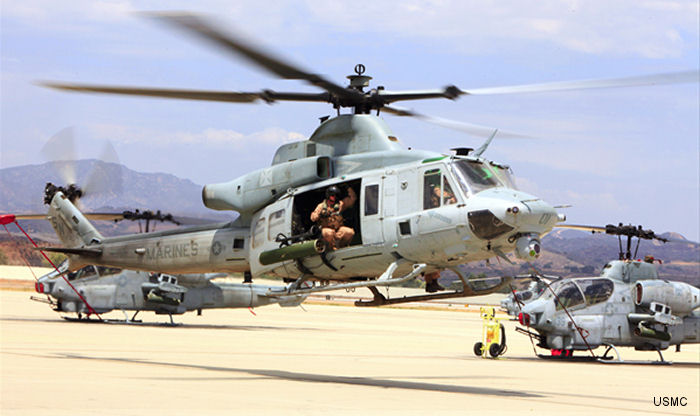 Bell Helicopter, May 11, 2016 - Fort Worth, Texas – Bell Helicopter, a Textron Inc. company, was awarded a $461.1 million contract in March 2016 from the U.S. Pentagon to supply the U.S. Marine Corps with more than two dozen new utility and attack helicopters.

The contract includes 12 UH-1Y Venom utility helicopters and 16 AH-1Z Viper attack helicopters and the associated auxiliary fuel kits.

"The UH-1Y utility and AH-1Z attack helicopters continue to perform for the United States Marine Corps, delivering on our promise of technologically advanced aircraft the Marines can rely on to accomplish their challenging missions," said Lisa Atherton, executive vice president of Military Business for Bell Helicopter. "The Venom and Viper are a powerful, comprehensive duo, designed and manufactured to reduce logistical requirements and environmentally hardened to perform for armed forces over land or sea."

The Bell AH-1Z Viper is among the world's most lethal anti-armor attack helicopter, capable of carrying the widest array of ordnance of any helicopter in the world. Target identification is crucial in the modern battlefield, and the Bell AH-1Z's Target Sight System provides the longest range and highest accuracy of any helicopter sight available, as it allows the operators of the AH-1Z to identify and track multiple targets outside the enemy's ability to visually detect the Viper. Unlike other attack helicopters, the AH-1Z Viper has integrated air-to-air strike capability in addition to superior air-to-ground anti-armor performance. This capability set makes the AH-1Z the ideal platform to meet the requirements of land warfare scenarios in any of the potential hot spots around the world.

The Bell UH-1Y Venom is a combat-proven utility helicopter slated to support the United States Marine Corps' global missions for the next four decades. The Bell UH-1Y engages threats, inserts or exfiltrates personnel and performs under the most punishing operating conditions, making it the ultimate tactical utility helicopter. The Bell UH-1Y was first deployed with the United States Marine Corps in 2009. The Huey lineage can be traced back to combat action in Vietnam, but today's Bell UH-1Y is a new construction, thoroughly modern, marinized combat aircraft.

These attack and utility helicopters are currently in production with the work being performed in the Fort Worth, Texas manufacturing facility and also in the Amarillo, Texas aircraft assembly facility. This contract is part of the U.S. Marine Corps' H-1 Program of Record, calling for the purchase of 189 AH-1Z Viper attack helicopters and 160 UH-1Y Venom utility helicopters.

About Bell Helicopter: Bell Helicopter, a wholly owned subsidiary of Textron Inc.(NYSE: TXT), is an industry-leading producer of commercial and military, manned and unmanned vertical-lift aircraft and the pioneer of the revolutionary tiltrotor aircraft. Globally recognized for world-class customer service, innovation and superior quality, Bell's global workforce serves customers flying Bell aircraft in more than 120 countries.
UH-1Y Venom in

US Marine Corps
Bell AH-1Z Viper