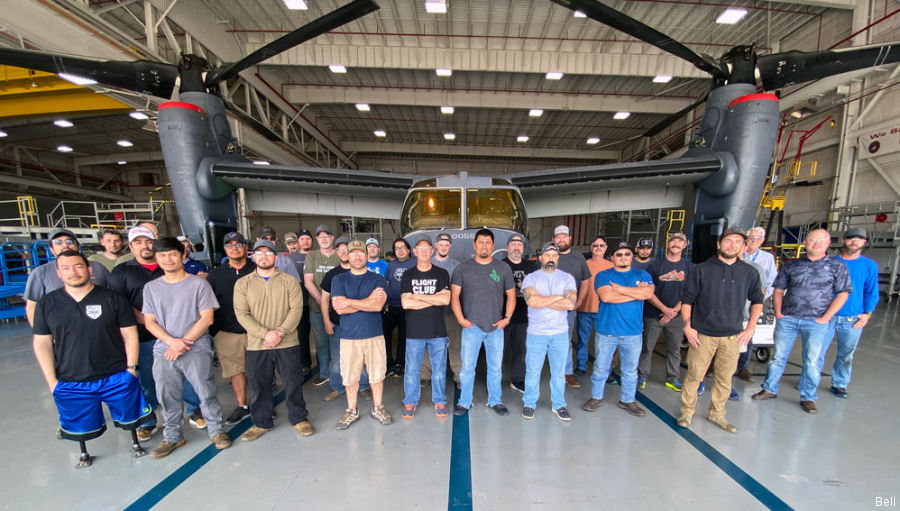 Bell, July 11, 2023
- Driving through West Texas' Route 66, it isn't uncommon to look out the window and see the Bell Boeing V-22 Osprey soaring in the sky. Amarillo, Texas, or more commonly known as 'Rotor City, USA', is home to Bell's Amarillo Assembly Center. Nestled in the Texas Panhandle, the world-class manufacturing plant is one of the leading assembly hubs that brings the Bell Boeing V-22 Osprey to life.
For Bell's Amarillo V-22 team, being able to work on the innovative aircraft is all about supporting the warfighter while continuing to honor the legacy and culture that the aircraft brings to the Amarillo community.
Culley Shafer, V-22 assembly manager, Bell
said "I come into work every day and I feel an immense sense of pride that I get to work on an incredible platform that's ahead of its time. Knowing that by building the V-22, we are supporting the warfighter saving lives, is why we do what we do. Even when I'm at home with my family, every time we hear the distinct sound of a V-22 flying by, we all run outside to watch it. It's part of the Amarillo experience. We are proud to serve our V-22 customers located throughout the world all the way from the Texas Panhandle."
All variants of the V-22 model – MV, CV, and CMV are assembled at Bell's Amarillo Assembly Center. Known as the world's most versatile aircraft, the V-22 is actively participating in combat, humanitarian, and VIP transport missions worldwide. To date, the Bell Boeing V-22 Osprey has completed over 700,000 flight hours.
James McCarty, V-22 technical lead, Bell
said "For more than 30 years, the Osprey has combined best-in-class technologies with unrivaled speed and durability. I am so thankful to be a part of the Bell V-22 team, where the ideas and intellect of our engineers and suppliers come together through the hands of gifted mechanics, electricians, and quality team members. Our team continues to rise to the occasion and exceeds industry standards every day."
Bell's Amarillo Assembly Center is the final assembly and delivery hub for Bell's military products, including the Bell
AH-1Z
and
UH-1Y
, as well as the future assembly hub for the
Bell 525
, the
Bell V-280
, and the
Bell 360
.
Fast Facts on the Bell Boeing V-22 Osprey

1. The Bell Boeing V-22 Osprey is the world's first successful military tiltrotor to take to the air and the largest active production line for tiltrotors

2. In March 1989, the V-22 took off for its first flight in Arlington, Texas

3. The V-22 main assembly facility is in Amarillo, Texas, or commonly known as Rotor City, USA, due to the V-22's profound presence in the Texas Panhandle skies

4. The production group behind the V-22, more commonly known as "Team Osprey", consists of more than 500 US-based suppliers and employs over 27,000 people across 44 states

5. Known as a versatile aircraft, the V-22 has deployed to several combat and humanitarian operations, provided earthquake relief, and aided with hurricane response across the globe

6. As a joint service military provider, the U.S. Marines, U.S. Air Force, U.S. Navy, and Japan Ground Self Defense Force currently operate their own variants of the V-22 model – MV, CV, CMV, and Japan MV, respectively

7. In its 34 years of service, more than 475 V-22s have been ordered to complete combat and humanitarian missions worldwide

8. Coupled with a rotating wing and rotors that fold horizontally, the V-22 can be stored aboard an aircraft carrier or assault ship – allowing the tiltrotor aircraft to be transported to complete missions worldwide

9. The V-22 is used for a wide-range of missions, including long-range infiltration, exfiltration, medium-range assault, special operations, VIP transport, resupply, disaster relief, search-and-rescue, medical evacuation, and humanitarian missions

10. This multi-engine aircraft is equipped with dual Rolls-Royce Liberty AE1107C engines

11. Up to 24 personnel can sit inside the tiltrotor aircraft

12. With aerial refueling capability using high-speed drogues, the V-22 allows continuous flight for several hours or more

13. The V-22 travels nearly twice as fast as most average helicopters

14. The V-22's speed and wide coverage area allows for rapid response time during the "Golden Hour", or the first and most critical hour after an incident

15. The V-22 is equipped with complete runway independence technologies, allowing it to take off and land wherever it's needed the most

16. At present, the V-22 has surpassed more than 700,000 flight hours

17. The V-22 has made more than 40 notable appearances in movies and video games, including the Transformers and Call of Duty series

18. Starting in December 2021, Bell began offering improvement kits for the V-22's two nacelles to maintain the reliability rate and boost mission readiness

19. CV-22 nacelle improvement program recently surpassed 1,000 flight hours - strengthening endurance for its full range of military operations

20. Equipped with modern fly-by-wire controls, the V-22's high-tech equipment allows for less pilot workload and more situational awareness

21. The V-22 model was developed from more than 85 years of Bell pioneering innovative vertical take-off and landing (VTOL) configurations like the X-14, X-22, XV-3, XV-15, and eventually the V-22

22. With corrosion resistant coatings and bladefold for shipboard storage, the V-22 is designed to successfully navigate in the world's harshest environments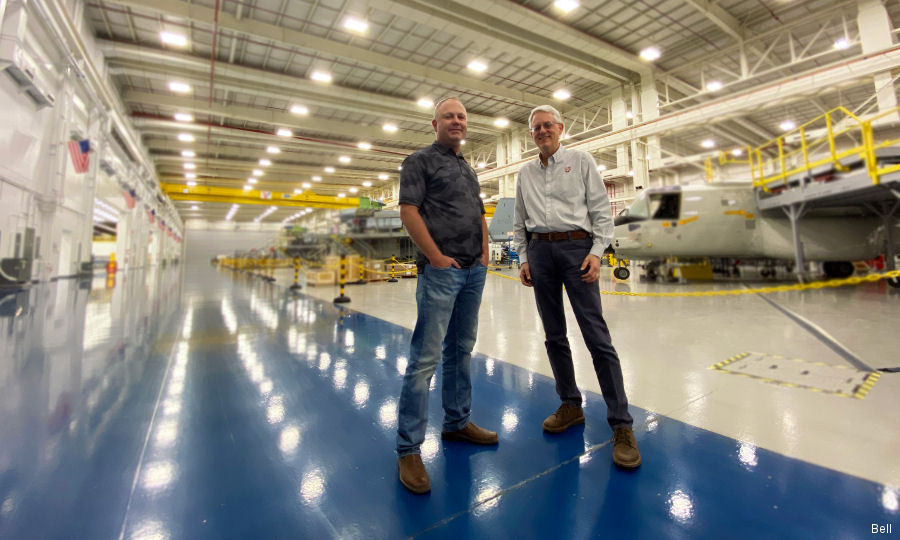 V-22 assembly line in Amarillo, Texas
Location :

Amarillo
World class facility & people for world class products
Two of the best in the business there!! Looking good, fellas!
Keep up the good work you two!!!👍🏻
Awesome
V-22 Osprey in

Bell Helicopter