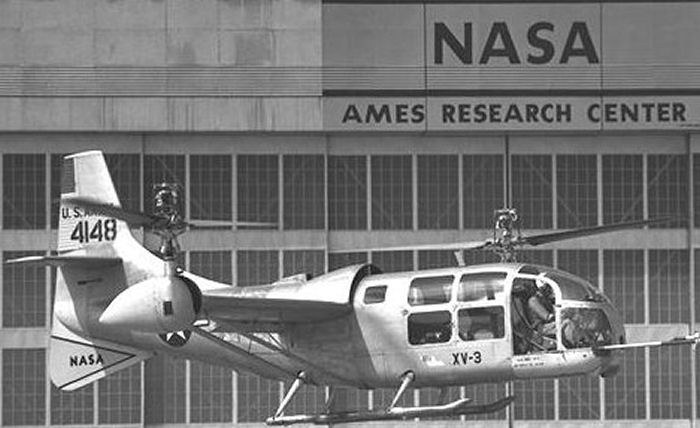 Bell Helicopter, January 22, 2004
- Arlington, TEXAS - History rolled into Bell Helicopter s Flight Research Center at Arlington Municipal Airport today when a tractor trailer loaded with ancient aircraft parts and pieces was eagerly greeted by Bell employees and retirees.
The precious cargo contained the parts of the Bell XV-3, the world s first successful tiltrotor aircraft. Over the next two years Bell employees and volunteers will restore the aircraft to museum quality display condition.
Bell Helicopter will keep the XV-3 in Fort Worth, until 2008, when the historic plane goes on permanent display at the U.S. Air Force Museum, Wright-Patterson A.F.B., Ohio. Bell officials pointed out while the XV-3 will never fly again; it remains an important part of America s aviation heritage.
Built by Bell in 1954 in Fort Worth under a joint Army/Air Force contract, the XV-3 successfully demonstrated the concept that by rotating its outboard prop-rotors up or down, the aircraft could take off and land vertically like a traditional helicopter as well as fly with the high-speed and range of a fixed wing airplane.
From 1955 through 1959, the Bell XV-3 graced the skies over Dallas and Fort Worth, proving conclusively the value of tiltrotor technology. Following the flight test program, the XV-3 was turned over to the Army, which has stored the dis-assembled aircraft at the Army Aviation Museum, Fort Rucker, Alabama.
Bell s follow-on tiltrotor aircraft after the XV-3, was the twin-engine turbine powered
XV-15
, which is on permanent display at The National Air and Space Museum s Steven F. Udvar-Hazy Center, Chantilly, Virginia.
The XV-3 restoration project will take place near where the first
V-22
tiltrotor aircraft were built and test flown as well as where the newest and first civil tiltrotor, the BA609, is being developed.
About Bell Helicopter: Bell Helicopter is a Textron Company. Textron Inc. is a $10 billion multi-industry company with 44,000 employees in 40 countries. The company leverages its global network of businesses to provide customers with innovative solutions and services in industries such as aircraft, fastening systems, industrial products and components and finance. Textron is known around the world for its powerful brands such as Bell Helicopter, Cessna Aircraft, Kautex, Lycoming, E-Z-GO and Greenlee, among others.
Location :

Arlington

Bell