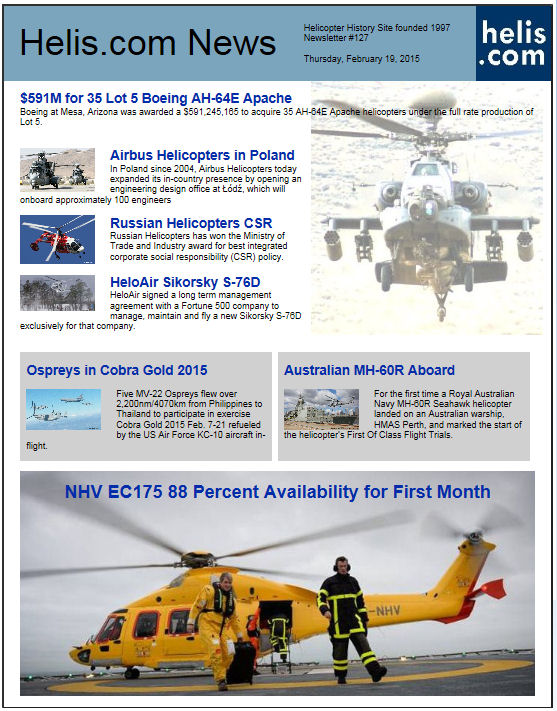 Helicopter News February 19, 2015 by Helis.com
Newsletter #127

$591M for 35 Lot 5 Boeing AH-64E Apache Boeing at Mesa, Arizona was awarded a $591,245,165 to acquire 35 AH-64E Apache helicopters under the full rate production of Lot 5.

NHV EC175 88 Percent Availability for First Month First reports back from NHV about the EC175's entry into service show that the helicopter is performing above expectations for a new aircraft, with 88 percent availability.

USMC MV-22 Ospreys in Cobra Gold 2015 Five MV-22 Ospreys flew over 2,200nm/4070km from Philippines to Thailand to participate in exercise Cobra Gold 2015 Feb. 7-21 refueled by the US Air Force KC-10 aircraft in-flight.

MH-60R Embarked for First Time in Australian Ship For the first time a Royal Australian Navy MH-60R Seahawk helicopter landed on an Australian warship, HMAS Perth, and marked the start of the helicopter's First Of Class Flight Trials.

Airbus Helicopters New R&D Office in Poland In Poland since 2004, Airbus Helicopters today expanded its in-country presence by opening an engineering design office at Łódź, which will onboard approximately 100 engineers

Russian Helicopters Wins Social Responsibility Award Russian Helicopters has won the Ministry of Trade and Industry award for best integrated corporate social responsibility (CSR) policy.

HeloAir took delivery of a new Sikorsky S-76D HeloAir signed a long term management agreement with a Fortune 500 company to manage, maintain and fly a new Sikorsky S-76D exclusively for that company.