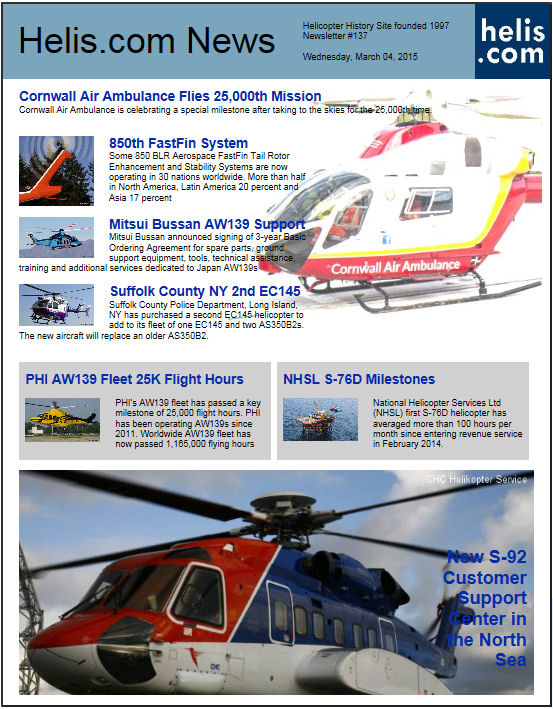 Helicopter News March 04, 2015 by Helis.com
Newsletter #137

Cornwall Air Ambulance Flies 25,000th Mission

New S-92 Customer Support Center in the North Sea Sikorsky announced that the defense and security company Saab has become a Sikorsky-authorized S-92 helicopter Customer Support Center for North Sea operators

PHI AW139 Fleet Reaches 25,000 Flight Hours PHI's AW139 fleet has passed a key milestone of 25,000 flight hours. PHI has been operating AW139s since 2011. Worldwide AW139 fleet has now passed 1,165,000 flying hours

Sikorsky Recognizes NHSL Recent S-76D Milestones National Helicopter Services Ltd (NHSL) first S-76D helicopter has averaged more than 100 hours per month since entering revenue service in February 2014.

BLR Aerospace: 850th FastFin System Some 850 BLR Aerospace FastFin Tail Rotor Enhancement and Stability Systems are now operating in 30 nations worldwide. More than half in North America, Latin America 20 percent and Asia 17 percent

Mitsui Bussan Orders for AW139 in Japan Mitsui Bussan announced signing of 3-year Basic Ordering Agreement for spare parts, ground support equipment, tools, technical assistance, training and additional services dedicated to Japan AW139s

Suffolk County NY adds second EC145 to fleet Suffolk County Police Department, Long Island, NY has purchased a second EC145 helicopter to add to its fleet of one EC145 and two AS350B2s. The new aircraft will replace an older AS350B2.