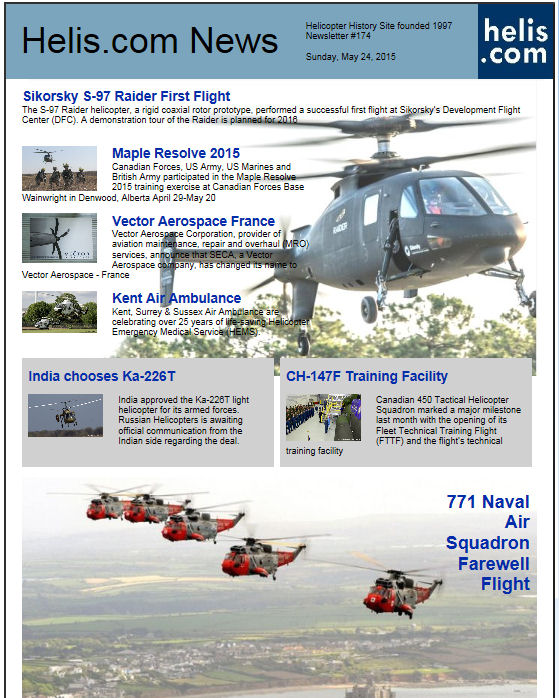 Helicopter News May 24, 2015 by Helis.com
Newsletter #174

Sikorsky S-97 Raider First Flight The S-97 Raider helicopter, a rigid coaxial rotor prototype, performed a successful first flight at Sikorsky's Development Flight Center (DFC). A demonstration tour of the Raider is planned for 2016

771 Naval Air Squadron Farewell Flight Royal Navy 771 Naval Air Squadron celebrates their 76th birthday with a Sea King formation around the west coast of Cornwall. Will hand over its SAR duties at the end of the year

India chooses Russian Helicopters Ka-226T India approved the Ka-226T light helicopter for its armed forces. Russian Helicopters is awaiting official communication from the Indian side regarding the deal.

CH-147F Chinook Technical Training Facility Canadian 450 Tactical Helicopter Squadron marked a major milestone last month with the opening of its Fleet Technical Training Flight (FTTF) and the flight's technical training facility

Maple Resolve 2015 Canadian Forces, US Army, US Marines and British Army participated in the Maple Resolve 2015 training exercise at Canadian Forces Base Wainwright in Denwood, Alberta April 29-May 20

SECA changes its name to Vector Aerospace France Vector Aerospace Corporation, provider of aviation maintenance, repair and overhaul (MRO) services, announce that SECA, a Vector Aerospace company, has changed its name to Vector Aerospace - France

25 Years for Kent, Surrey and Sussex Air Ambulance Kent, Surrey & Sussex Air Ambulance are celebrating over 25 years of life-saving Helicopter Emergency Medical Service (HEMS).