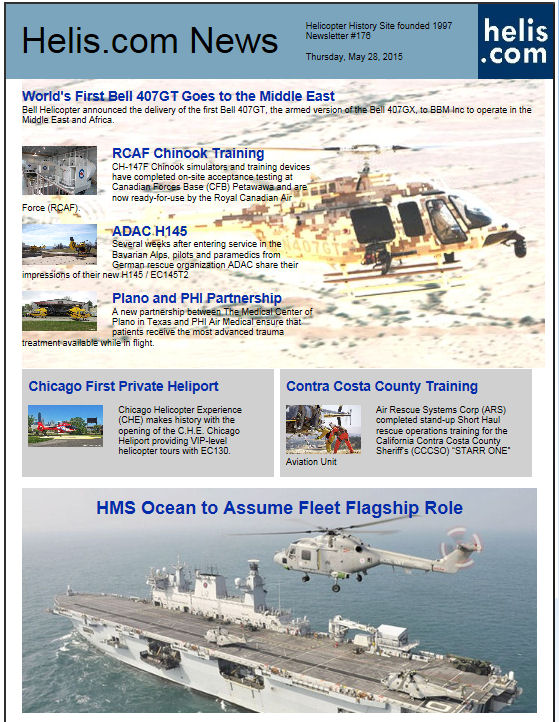 Helicopter News May 28, 2015 by Helis.com
Newsletter #176

World's First Bell 407GT Goes to the Middle East Bell Helicopter announced the delivery of the first Bell 407GT, the armed version of the Bell 407GX, to BBM Inc to operate in the Middle East and Africa.

HMS Ocean to Assume Fleet Flagship Role HMS Ocean, Royal Navy helicopter carrier and largest active ship, will shortly assume the duties of Fleet Flagship.

CHE Opens Chicago First Private Heliport Chicago Helicopter Experience (CHE) makes history with the opening of the C.H.E. Chicago Heliport providing VIP-level helicopter tours with EC130.

Contra Costa County Air Rescue Training Air Rescue Systems Corp (ARS) completed stand-up Short Haul rescue operations training for the California Contra Costa County Sheriff's (CCCSO) "STARR ONE" Aviation Unit

RCAF Chinook Training Underway in Petawawa CH-147F Chinook simulators and training devices have completed on-site acceptance testing at Canadian Forces Base (CFB) Petawawa and are now ready-for-use by the Royal Canadian Air Force (RCAF).

ADAC H145 EMS in the Bavarian Alps Several weeks after entering service in the Bavarian Alps, pilots and paramedics from German rescue organization ADAC share their impressions of their new H145 / EC145T2

Medical Center of Plano and PHI Partnership A new partnership between The Medical Center of Plano in Texas and PHI Air Medical ensure that patients receive the most advanced trauma treatment available while in flight.