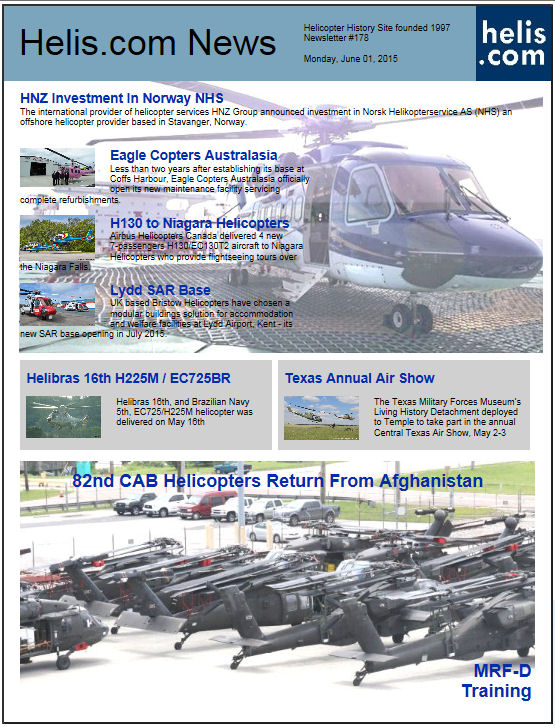 Helicopter News June 01, 2015 by Helis.com
Newsletter #178

HNZ Investment In Norway NHS The international provider of helicopter services HNZ Group announced investment in Norsk Helikopterservice AS (NHS) an offshore helicopter provider based in Stavanger, Norway.

82nd CAB Helicopters Return From Afghanistan Paratroopers from the 82nd CAB received their helicopters used in Afghanistan at the Charleston port in South Carolina from a charter vessel and flown them to home base Fort Bragg, North Carolina

Helibras Delivers its 16th H225M / EC725BR Helibras 16th, and Brazilian Navy 5th, EC725/H225M helicopter was delivered on May 16th

Texas Military Forces Museum Annual Show The Texas Military Forces Museum's Living History Detachment deployed to Temple to take part in the annual Central Texas Air Show, May 2-3

Marine Rotational Force Darwin CH-53 Training US Marines with Heavy Helicopter Squadron HMH-463, Marine Rotational Force Darwin, conducted training operations with CH-53E Super Stallion at Mount Bundy Training Area, Northern Territory, Australia

Eagle Copters Australasia Opens New Facility Less than two years after establishing its base at Coffs Harbour, Eagle Copters Australasia officially open its new maintenance facility servicing complete refurbishments.

Airbus Canada Delivered 4 H130 to Niagara Helicopters Airbus Helicopters Canada delivered 4 new 7-passengers H130/EC130T2 aircraft to Niagara Helicopters who provide flightseeing tours over the Niagara Falls.

Danzer Modular Buildings for Lydd SAR Base UK based Bristow Helicopters have chosen a modular buildings solution for accommodation and welfare facilities at Lydd Airport, Kent - its new SAR base opening in July 2015.