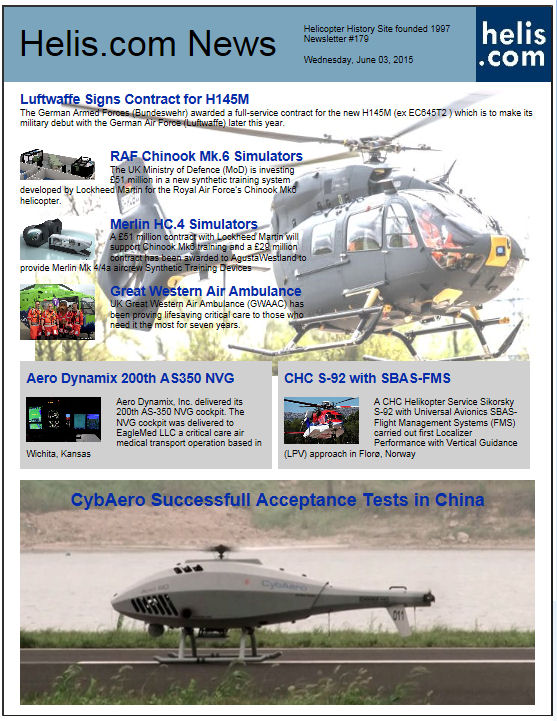 Helicopter News June 03, 2015 by Helis.com
Newsletter #179

Luftwaffe Signs Contract for H145M The German Armed Forces (Bundeswehr) awarded a full-service contract for the new H145M (ex EC645T2 ) which is to make its military debut with the German Air Force (Luftwaffe) later this year.

CybAero Successfull Acceptance Tests in China CybAero, which develops and manufactures remotely piloted helicopter systems, received an order in January 2014 for three systems to China Customs.

Aero Dynamix 200th AS350 NVG cockpit Aero Dynamix, Inc. delivered its 200th AS-350 NVG cockpit. The NVG cockpit was delivered to EagleMed LLC a critical care air medical transport operation based in Wichita, Kansas

CHC Norway S-92 First With SBAS-FMS A CHC Helikopter Service Sikorsky S-92 with Universal Avionics SBAS-Flight Management Systems (FMS) carried out first Localizer Performance with Vertical Guidance (LPV) approach in Florø, Norway

RAF Chinook Mk.6 Simulators and Training System The UK Ministry of Defence (MoD) is investing £51 million in a new synthetic training system developed by Lockheed Martin for the Royal Air Force's Chinook Mk6 helicopter.

New Merlin HC.4 Simulators at Yeovilton A £51 million contract with Lockheed Martin will support Chinook Mk6 training and a £29 million contract has been awarded to AgustaWestland to provide Merlin Mk 4/4a aircrew Synthetic Training Devices

Great Western Air Ambulance 7th Birthday UK Great Western Air Ambulance (GWAAC) has been proving lifesaving critical care to those who need it the most for seven years.