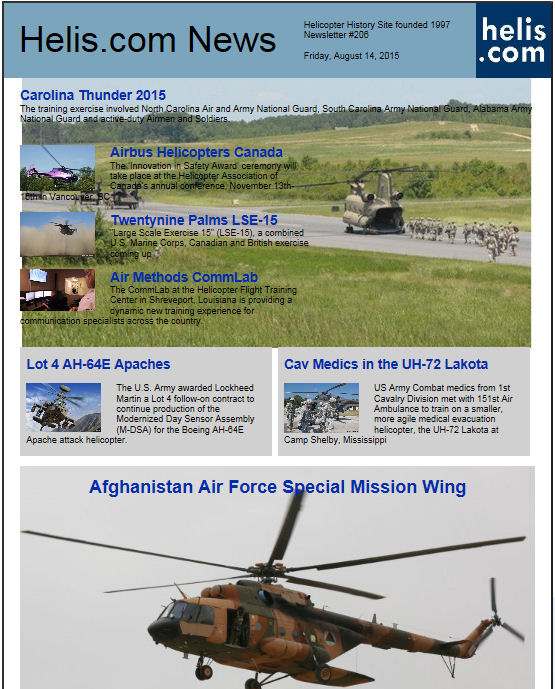 Helicopter News August 14, 2015 by Helis.com
Newsletter #206

Carolina Thunder 2015 The training exercise involved North Carolina Air and Army National Guard, South Carolina Army National Guard, Alabama Army National Guard and active-duty Airmen and Soldiers.

Afghanistan Air Force Special Mission Wing The Afghan Special Mission Wing (SMW) is an unique aviation unit in charge of supporting the special forces capabilities of the Ministry of Defense and Ministry of Interior.

Lockheed Martin Contract for Lot 4 AH-64E Apaches The U.S. Army awarded Lockheed Martin a Lot 4 follow-on contract to continue production of the Modernized Day Sensor Assembly (M-DSA) for the Boeing AH-64E Apache attack helicopter.

Cav Medics Training in the UH-72 Lakota US Army Combat medics from 1st Cavalry Division met with 151st Air Ambulance to train on a smaller, more agile medical evacuation helicopter, the UH-72 Lakota at Camp Shelby, Mississippi

Airbus Helicopters Canada Seeking Nominations The 'Innovation in Safety Award' ceremony will take place at the Helicopter Association of Canada's annual conference, November 13th-15th in Vancouver, BC

Large Scale Exercise 15 at Twentynine Palms "Large Scale Exercise 15" (LSE-15), a combined U.S. Marine Corps, Canadian and British exercise coming up

CommLab for Communication Specialists The CommLab at the Helicopter Flight Training Center in Shreveport, Louisiana is providing a dynamic new training experience for communication specialists across the country.