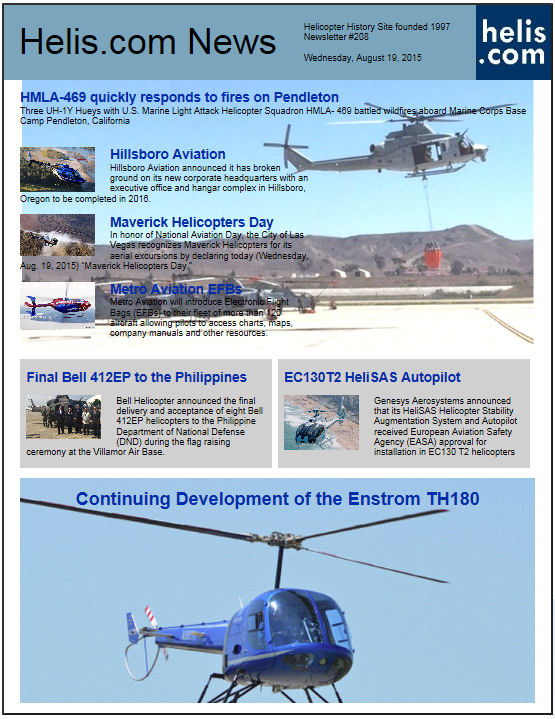 Helicopter News August 19, 2015 by Helis.com
Newsletter #208

HMLA-469 quickly responds to fires on Pendleton Three UH-1Y Hueys with U.S. Marine Light Attack Helicopter Squadron HMLA- 469 battled wildfires aboard Marine Corps Base Camp Pendleton, California

Continuing Development of the Enstrom TH180 Enstrom Helicopter Corporation is continuing flight testing on the new TH180 helicopter currently flight testing the second prototype and has begun construction on a third test aircraft

Eight and Final Bell 412EP Delivered to the Philippines Bell Helicopter announced the final delivery and acceptance of eight Bell 412EP helicopters to the Philippine Department of National Defense (DND) during the flag raising ceremony at the Villamor Air Base.

EASA Certification for EC130T2 HeliSAS Autopilot Genesys Aerosystems announced that its HeliSAS Helicopter Stability Augmentation System and Autopilot received European Aviation Safety Agency (EASA) approval for installation in EC130 T2 helicopters

Hillsboro Aviation Breaks Ground in Oregon Hillsboro Aviation announced it has broken ground on its new corporate headquarters with an executive office and hangar complex in Hillsboro, Oregon to be completed in 2016.

Las Vegas Declares "Maverick Helicopters Day" In honor of National Aviation Day, the City of Las Vegas recognizes Maverick Helicopters for its aerial excursions by declaring today (Wednesday, Aug. 19, 2015) "Maverick Helicopters Day."

Electronic Flight Bags for Metro Aviation Metro Aviation will introduce Electronic Flight Bags (EFBs) to their fleet of more than 120 aircraft allowing pilots to access charts, maps, company manuals and other resources.