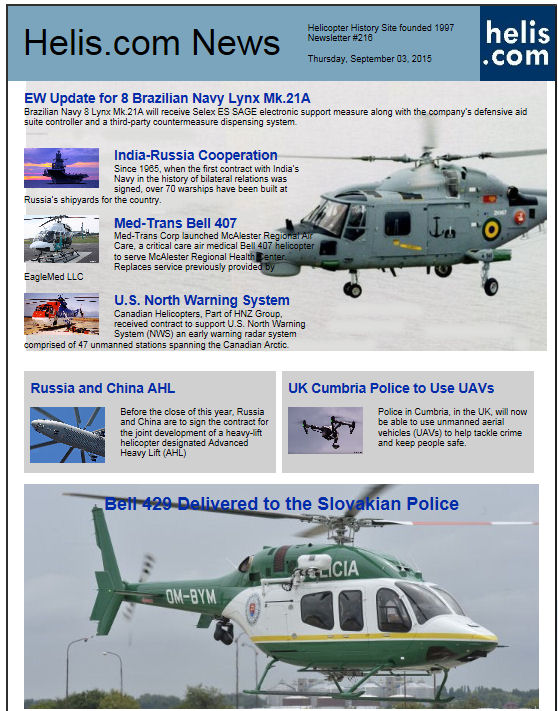 Helicopter News September 03, 2015 by Helis.com
Newsletter #216

EW Update for 8 Brazilian Navy Lynx Mk.21A Brazilian Navy 8 Lynx Mk.21A will receive Selex ES SAGE electronic support measure along with the company's defensive aid suite controller and a third-party countermeasure dispensing system.

Bell 429 Delivered to the Slovakian Police Bell Helicopter delivered the first of two Bell 429s to the Slovakian Police to be used for border protection, search and rescue, natural disaster relief missions and road traffic law enforcement.

Russia and China Plan to Build Heavy Lift Helicopter Before the close of this year, Russia and China are to sign the contract for the joint development of a heavy-lift helicopter designated Advanced Heavy Lift (AHL)

UK Cumbria Police to Use UAVs Police in Cumbria, in the UK, will now be able to use unmanned aerial vehicles (UAVs) to help tackle crime and keep people safe.

50th Anniversary of India-Russia Naval Cooperation Since 1965, when the first contract with India's Navy in the history of bilateral relations was signed, over 70 warships have been built at Russia's shipyards for the country.

Med-Trans Bell 407 in McAlester, Oklahoma Med-Trans Corp launched McAlester Regional Air Care, a critical care air medical Bell 407 helicopter to serve McAlester Regional Health Center. Replaces service previously provided by EagleMed LLC

HNZ Group to Support U.S. North Warning System Canadian Helicopters, Part of HNZ Group, received contract to support U.S. North Warning System (NWS) an early warning radar system comprised of 47 unmanned stations spanning the Canadian Arctic.