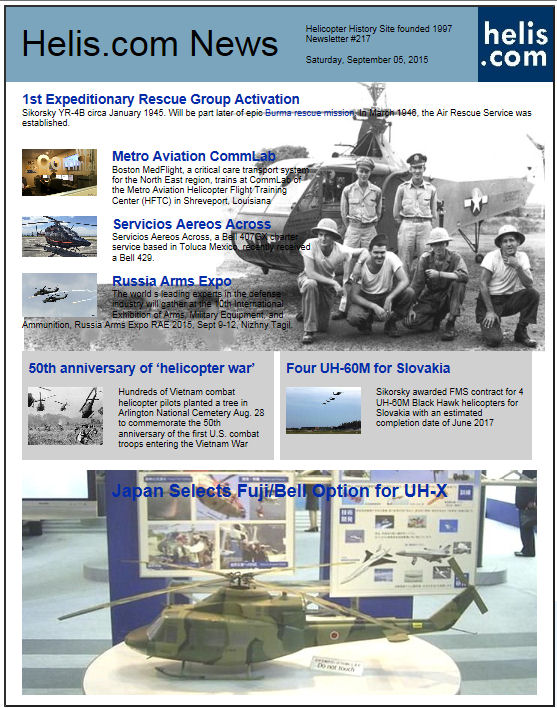 Helicopter News September 05, 2015 by Helis.com
Newsletter #217

1st Expeditionary Rescue Group Activation Sikorsky YR-4B circa January 1945. Will be part later of epic Burma rescue mission. In March 1946, the Air Rescue Service was established.

Japan Selects Fuji/Bell Option for UH-X Bell Helicopter and Fuji announced contract for 150 UH-X helicopters based on the Bell 412EPI to replace Japan Ground Self-Defense Force (JGSDF) current fleet of UH-1J Hueys from 2021

Vietnam: 50th anniversary of 'helicopter war' Hundreds of Vietnam combat helicopter pilots planted a tree in Arlington National Cemetery Aug. 28 to commemorate the 50th anniversary of the first U.S. combat troops entering the Vietnam War

FMS Contract for Four UH-60M for Slovakia Sikorsky awarded FMS contract for 4 UH-60M Black Hawk helicopters for Slovakia with an estimated completion date of June 2017

Boston MedFlight trains at Metro Aviation CommLab Boston MedFlight, a critical care transport system for the North East region, trains at CommLab of the Metro Aviation Helicopter Flight Training Center (HFTC) in Shreveport, Louisiana

Bell 429 to Mexican Servicios Aereos Across Servicios Aereos Across, a Bell 407GX charter service based in Toluca Mexico, recently received a Bell 429.

Rostec at Russia Arms Expo 2015 The world s leading experts in the defense industry will gather at the 10th International Exhibition of Arms, Military Equipment, and Ammunition, Russia Arms Expo RAE 2015, Sept 9-12, Nizhny Tagil.