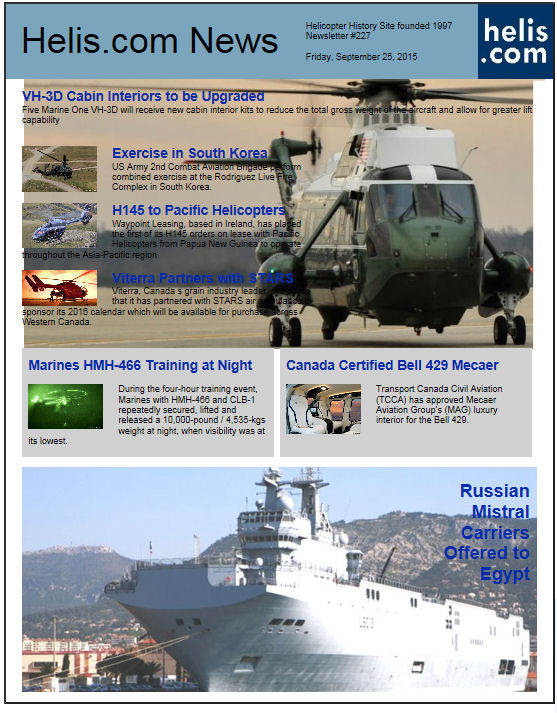 Helicopter News September 25, 2015 by Helis.com
Newsletter #227

VH-3D Cabin Interiors to be Upgraded Five Marine One VH-3D will receive new cabin interior kits to reduce the total gross weight of the aircraft and allow for greater lift capability

Russian Mistral Carriers Offered to Egypt In August the contract of the Mistral helicopter carriers for Russia was terminated. After returning all Russian equipment, France will be able to sell the helicopter carriers to another buyer.

Marines HMH-466 Training at Night During the four-hour training event, Marines with HMH-466 and CLB-1 repeatedly secured, lifted and released a 10,000-pound / 4,535-kgs weight at night, when visibility was at its lowest.

Bell 429 Mecaer Interior Certificate in Canada Transport Canada Civil Aviation (TCCA) has approved Mecaer Aviation Group's (MAG) luxury interior for the Bell 429.

2-2nd AVN Combined Exercise in South Korea US Army 2nd Combat Aviation Brigade perform combined exercise at the Rodriguez Live Fire Complex in South Korea.

Waypoint Leasing H145 to Pacific Helicopters Waypoint Leasing, based in Ireland, has placed the first of its H145 orders on lease with Pacific Helicopters from Papua New Guinea to operate throughout the Asia-Pacific region

Viterra Partners with STARS Air Ambulance Viterra, Canada s grain industry leader, announce that it has partnered with STARS air ambulance to sponsor its 2016 calendar which will be available for purchase across Western Canada.