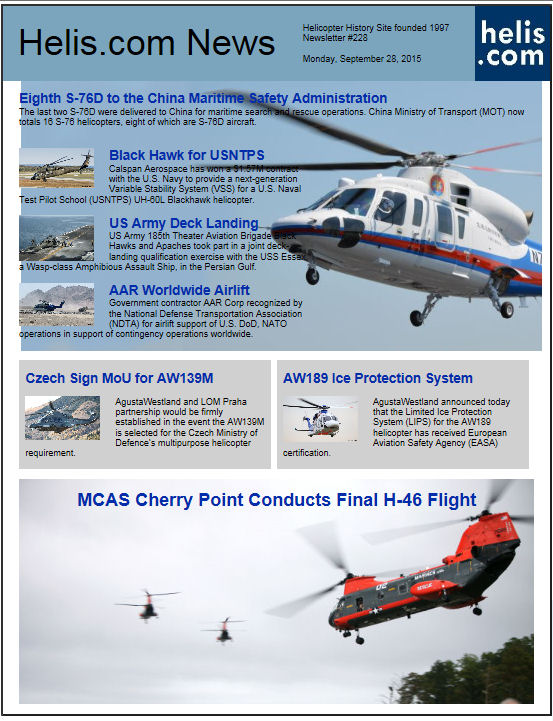 Helicopter News September 28, 2015 by Helis.com
Newsletter #228

Eighth S-76D to the China Maritime Safety Administration The last two S-76D were delivered to China for maritime search and rescue operations. China Ministry of Transport (MOT) now totals 16 S-76 helicopters, eight of which are S-76D aircraft.

MCAS Cherry Point Conducts Final H-46 Flight The three remaining HH-46E search and rescue models, commonly known as "Pedro" assigned to Marine Transport Squadron 1, the last DoD Sea Knights, will retire from service on Sept.29

Czech LOM Praha Sign MoU for the AW139M AgustaWestland and LOM Praha partnership would be firmly established in the event the AW139M is selected for the Czech Ministry of Defence's multipurpose helicopter requirement.

EASA Certification for AW189 Ice Protection System AgustaWestland announced today that the Limited Ice Protection System (LIPS) for the AW189 helicopter has received European Aviation Safety Agency (EASA) certification.

Calspan to Modify Black Hawk for USNTPS Calspan Aerospace has won a $1.57M contract with the U.S. Navy to provide a next-generation Variable Stability System (VSS) for a U.S. Naval Test Pilot School (USNTPS) UH-60L Blackhawk helicopter.

US Army and Navy Practice Deck Landing Techniques US Army 185th Theater Aviation Brigade Black Hawks and Apaches took part in a joint deck-landing qualification exercise with the USS Essex, a Wasp-class Amphibious Assault Ship, in the Persian Gulf.

AAR Recognized for Worldwide Airlift Support Government contractor AAR Corp recognized by the National Defense Transportation Association (NDTA) for airlift support of U.S. DoD, NATO operations in support of contingency operations worldwide.