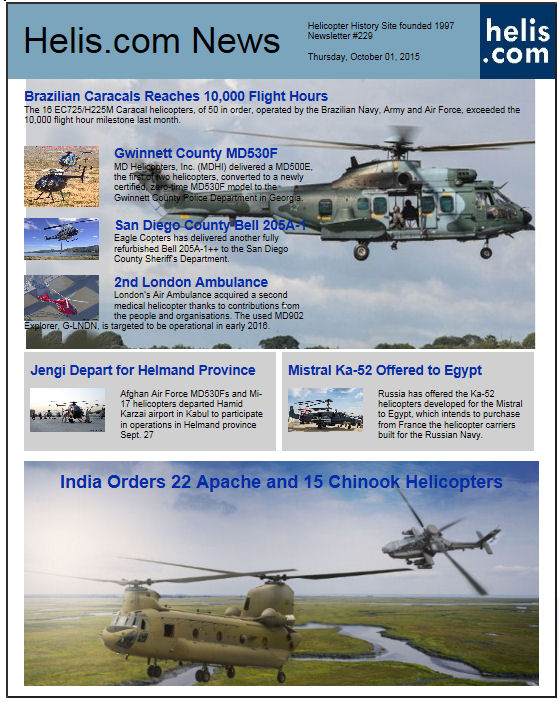 Helicopter News October 01, 2015 by Helis.com
Newsletter #229

Brazilian Caracals Reaches 10,000 Flight Hours The 16 EC725/H225M Caracal helicopters, of 50 in order, operated by the Brazilian Navy, Army and Air Force, exceeded the 10,000 flight hour milestone last month.

India Orders 22 Apache and 15 Chinook Helicopters Boeing confirmed India will receive 22 AH-64E Apache attack helicopters and 15 CH-47F Chinook heavy-lift helicopters. Both are the newest models of those aircraft.

Afghan Helicopters Depart Kabul for Helmand Province Afghan Air Force MD530Fs and Mi-17 helicopters departed Hamid Karzai airport in Kabul to participate in operations in Helmand province Sept. 27

Russia Offered Egypt Helicopters for Mistral Ships Russia has offered the Ka-52 helicopters developed for the Mistral to Egypt, which intends to purchase from France the helicopter carriers built for the Russian Navy.

Converted MD530F for the Gwinnett County Police MD Helicopters, Inc. (MDHI) delivered a MD500E, the first of two helicopters, converted to a newly certified, zero-time MD530F model to the Gwinnett County Police Department in Georgia.

Refurbished Bell 205A-1++ to San Diego County Sherrif Eagle Copters has delivered another fully refurbished Bell 205A-1++ to the San Diego County Sheriff's Department.

London Air Ambulance Gets Second Helicopter London's Air Ambulance acquired a second medical helicopter thanks to contributions from the people and organisations. The used MD902 Explorer, G-LNDN, is targeted to be operational in early 2016.