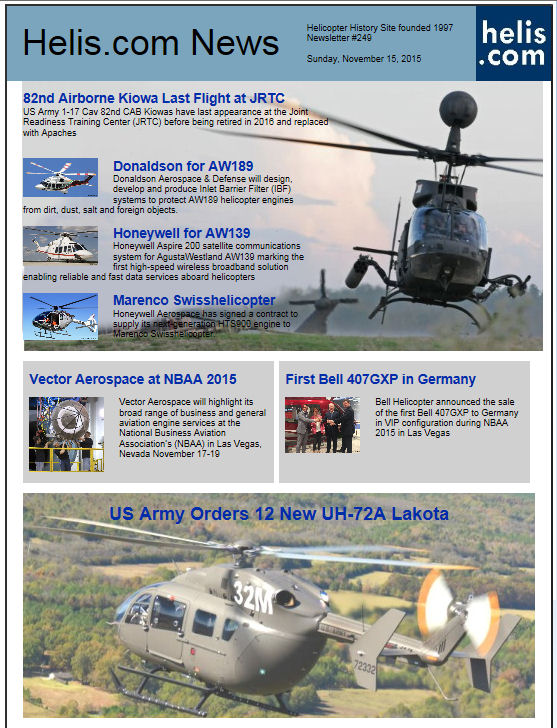 Helicopter News November 15, 2015 by Helis.com
Newsletter #249

82nd Airborne Kiowa Last Flight at JRTC US Army 1-17 Cav 82nd CAB Kiowas have last appearance at the Joint Readiness Training Center (JRTC) before being retired in 2016 and replaced with Apaches

US Army Orders 12 New UH-72A Lakota The United States Army has exercised $65.8 million in contract options for 12 additional UH-72A Lakota helicopters and associated mission equipment packages. Almost 350 have been already delivered

Vector Aerospace at NBAA 2015 Vector Aerospace will highlight its broad range of business and general aviation engine services at the National Business Aviation Association's (NBAA) in Las Vegas, Nevada November 17-19

First Bell 407GXP Purchased in Germany Bell Helicopter announced the sale of the first Bell 407GXP to Germany in VIP configuration during NBAA 2015 in Las Vegas

Donaldson Engine Protection System for AW189 Donaldson Aerospace & Defense will design, develop and produce Inlet Barrier Filter (IBF) systems to protect AW189 helicopter engines from dirt, dust, salt and foreign objects.

Honeywell High-Speed Broadband System for AW139 Honeywell Aspire 200 satellite communications system for AgustaWestland AW139 marking the first high-speed wireless broadband solution enabling reliable and fast data services aboard helicopters

Honeywell Signs Engine Contract With Marenco Swisshelicopter Honeywell Aerospace has signed a contract to supply its next-generation HTS900 engine to Marenco Swisshelicopter.