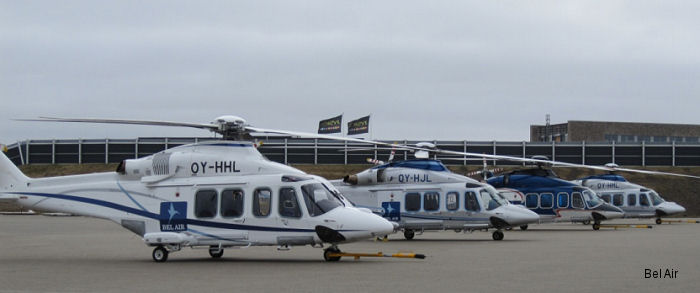 Bel Air Aviation A/S was established in 1994 with main base at Esbjerg Airport. Provides various helicopter services including transport to offshore oil and gas platforms and wind farms in the North Sea, charter, VIP transport, cargo, maintenance and training.

Is the official AgustaWestland Service Centre for the AW139 in Denmark and will also be for the AW189.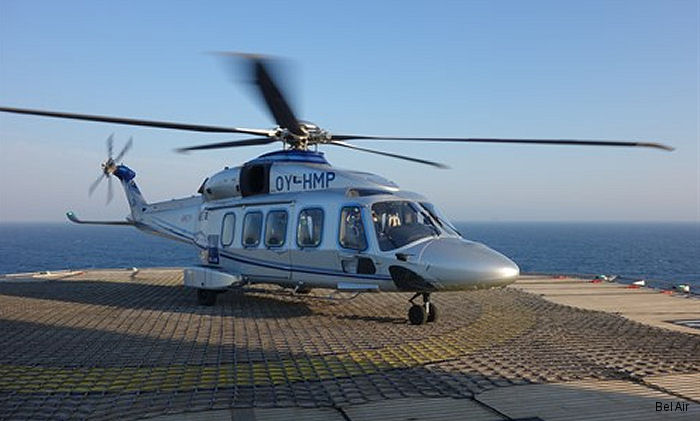 5000 Flight Hours for Bel Air Two AW189, 15-Sep-16 : Denmark's Bel Air two AW189 just passed the first 5,000 safe flight hours, an impresive milestone as the commercial worldwide fleet of 23 AW189 has flown just under 16,000 hours.
Model
C/N
Built
ID
AW189
49039
OY-HFD : Bel Air, test serial I-EASO

300C
S1804
2000
OY-HHB : Bel Air

AW139
31460
2013
OY-HHL : Bel Air Feb/Nov 2013, lsd Gulf Helicopters

EC120B
1189
2001
OY-HHS : Bel Air 2005-2017

AW139
31245
2009
OY-HJL : Bel Air d/d Jun09; test serial I-RAIM
: 08jul09 named Spirit of Agusta is first Bel Air aw139 to enter in ...
: 01jun12 pictured at Norwich, UK
: Feb17 completed 30,000 safe landings

AW139
31310
2010
OY-HLB : Bel Air d/d 2011

AW139
41210
2009
OY-HLC : Bel Air 2013-Sep15
: Jun/Sep 2013 seen at Eskjerg

AW189
49014
2014
OY-HLM : Bel Air from 28oct14

AW139
31411
OY-HML : Bel Air d/d April 2012
: 23jun12 visit
: 15sep12 pictured (bot) at De Kooy, Netherlands during Heldair sho ...

AW189
49013
2014
OY-HMP : Bel-Air Aviation from 03oct14; 14-16oct14 at Helitech 2014, Amste ...
: 15oct14 delivered during Helitech 2014, Amsterdam
: Jun15 achieves 600 flight hours and becames global fleet leader o ...

AW139
31121
2008
OY-HTJ : Bel Air Aviation from 2013

AW139
31480
2013
OY-HVB : Bel Air from Jun13

AW139
31295
2010
PH-EUD : Bel Air Aviation Oct10-Oct11


13 Construction Numbers in this organisation found