Also known as
Eurocopter Chile
was founded in 2001 as the Eurocopter Group southernmost subsidiary covering Argentina, Bolivia, Chile, Peru and Uruguay. From January 2014 is
Airbus Helicopters Cono Sur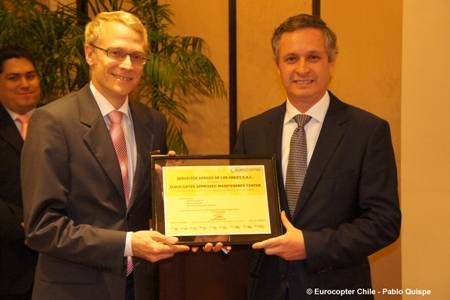 Eurocopter Service Center opened in Peru, 25-Jul-12 : Lima, Peru by Gloria Illas - With a view to increasing the close-proximity services it offers its customers, Eurocopter's subsidiary in the Southern Cone has put its partnership with Servicios Aéreos de Los Andes SAC on an official footing and has also opened its first certified services center in Peru.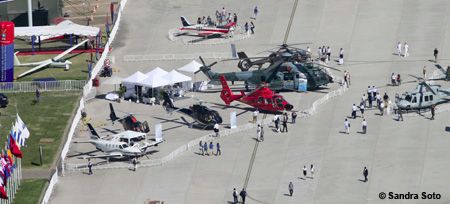 Eurocopter completes a successful FIDAE logging 11 bookings, 06-Apr-12 : Santiago, Chile - Through its subsidiary in the Southern Cone region, Eurocopter has announced the signing of five contracts and six letters of intent with a number of private and parapublic operators in Argentina, Chile and Peru at this year's FIDAE International Air and Space Fair in Santiago, Chile. The following bookings have been registered: 4 AS350 B3e, 3 EC145, 3 EC130 T2 and 1 EC155 B1.
Eurocopter confirms commitment at FIDAE, 20-Mar-12 : Marignane, France - Eurocopter's participation at the FIDAE International Air and Space Show in Santiago de Chile will underscore its strong presence in Latin America with a competitive range of products perfectly adapted to the growing needs of customers in the region.


9 Construction Numbers in this organisation found