FB Heliservices Ltd was initially formed as a joint venture between
Bristow Helicopters
and
Cobham Aviation Services
and specialises in the provision of helicopters, including operational support and training services, to military and government agencies in the UK and worldwide. Since 2013 is fully owned by Cobham.
Originally a consortium of FR Aviation, Bristow Helicopters Ltd and Serco, FBS was formed to bid for the UK's Defence Helicopter Flying School contract in 1995. The team won against competition from Shorts and a consortium between Bond and Huntings. By entering an innovative bid for a 15 year contract (the contract was originally for 10 years) the team were able to make their relatively expensive aircraft choice more affordable. Soon after contract award in late 1997, Serco withdrew from the consortium and the company was eventually re-named FB Heliservices. The original contract covers provision of aircraft and services at the Defence Helicopter Flying School sites at RAF Shawbury (HQ), RAF Valley (SAR training) and AAC Middle Wallop (advanced Army Air Corps training). Additional MoD and third party contracts have expanded the FBH fleet and share of the market.

Defence Helicopter Flying School
.

Cobham full owner of FB Heliservices, 15-Jul-13 : Cobham plc ('Cobham' or 'the Group') today announces that it has completed the acquisition of the 50% shareholding that it did not already own in FB Heliservices Ltd, FB Leasing Limited and FBS Limited (together 'FBH'), from its long standing joint venture partner, Bristow Helicopters Limited ('Bristow'). The transaction comprises cash consideration of £74 million payable on completion, together with the assumption of Bristow's share of FBH's net debt. Highlights: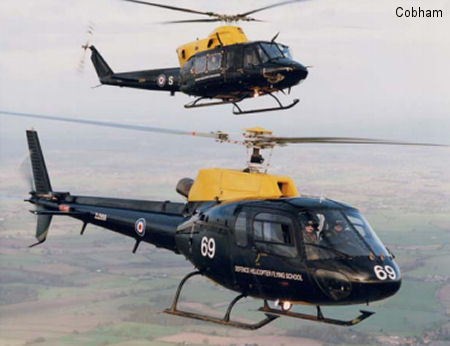 FB Heliservices to provided training to UK MoD, 06-Mar-12 : BASINGSTOKE, UK – Cobham Aviation Services is delighted to confirm that FB Heliservices has announced it has been awarded a four (4) year contract plus two (2) possible one year extensions by the UK Ministry of Defence to continue to provide helicopter flying training at RAF Shawbury, RAF Valley and AAC Middle Wallop, together with support services at RAF Shawbury and AAC Middle Wallop. The contract is worth £193 million and will commence on 1 April 2012.
Model
Del'd
From
To
AW AW139
2009




Model
C/N
Built
ID
212
30835
1977
G-BFER : ex N18099, transferred to FB Leasing Jan 2008 for UK MoD contract ...

212
30548
1972
G-BGLJ : FB Leasing Dec04-Oct07

212
31171
1980
G-BJGV : FB Heliservices from Jan16

212
32134
1980
G-BJJO : FB Heliservices from Dec15

AS350BB Ecureuil
2951
1996
G-BXAG : Acquired new from Eurocopter France; to ZJ255 by Apr 1997
: Restored to G-BXAG by Feb 2018; Sold to USA by Apr 2018

AS350BB Ecureuil
2994
1997
G-BXIL : Restored to G-BXIL Nov 2017; Sold to USA by Feb 2018.

AS350BB Ecureuil
2999
1997
G-BXJN : Acquired new from Eurocopter France; To ZJ269 by Aug 1997
: Restored to G-BXJN Nov 2017; Sold to USA by Mar 2018

A109E Power
11056
2000
G-BZEI : FB Leasing Jan/Feb 2009

412EP
36296
2002
G-CBST : FB Leasing Nov02-Jun03, for RAF

412EP
36297
2002
G-CBUB : FB Heliservices from 2002 to 2003 ex C-GADQ toward ZJ707

412EP
36301
2002
G-CBVP : FB Leasing Nov02-May03, to MoD

412EP
36304
2002
G-CBWT : FB Helicervices; from 2002 to 2003 ex C-GFNR toward ZJ704

412EP
36306
2002
G-CBXL : FB Leasing Jan/Jun 2003

AW139
31223
2009
G-CFUO : FB Heliservices; Jun09 as /223 at Paris air show in UK Defence He ...
: FB Heliservices lsd RAF, rtn May12; Aug12 to Dutch Coast Guard

AW139
31231
2009
G-CFVD : FB Heliservices lsd RAF, rtn Jun12; Aug to Dutch Coast Guard

212
30918
1979
G-CFXE : FB Leasing Jul09-Jun10, to AAC
: FB Heliservices from Dec15

AS365N3 Dauphin 2
6824
2008
G-CHNJ : FB Heliservices Dec12-Mar13

AS350B1 Ecureuil
1902
1986
G-DOIT : FB Heliservices from 2007, 2010 toward RAF

A109E Power
11111
2000
G-EMHB : FB Leasing Nov08-Feb09

AW139
31283
2010
G-FBHA : FB Heliservices Jan/Feb 2011


20 Construction Numbers in this organisation found