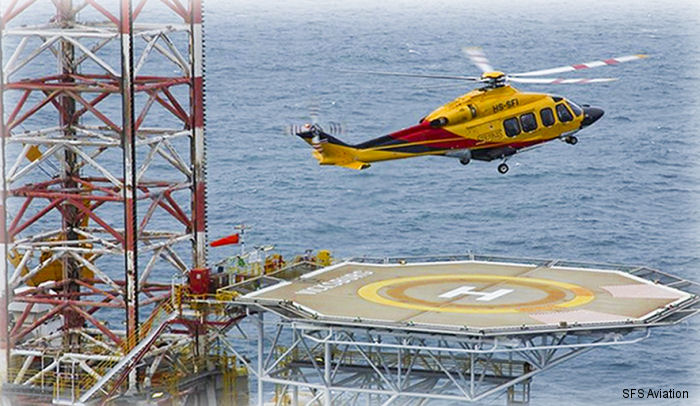 Si Chang Flying Services founded in 1990 initially providing transport services from Bangkok to Si-Chang Island Deep Sea Oil Terminal. Currently they have two operating bases in Thailand: Donmuang airport at Bangkok and at Songkhla in Southern Thailand.
LCI delivers AW139 to SFS Aviation, 06-Nov-13 : Lease Corporation International (LCI), the aviation division of the Libra Group, has delivered a new AugustaWestland AW139 helicopter to SFS Aviation in Asia.
SFS Aviation Orders an AW139 Helicopter, 06-Dec-11 : AgustaWestland, a Finmeccanica company, is pleased to announce that SFS Aviation of Thailand has signed a contract for an AW139 medium twin helicopter. The aircraft will be delivered later this month and will be used for offshore transport operations in the Gulf of Thailand from its Songkhla base in southern Thailand.
Model
C/N
Built
ID
BK117B-1
1067
HS-SFA : SFS Aviation, wfu

BK117B-1
1078
HS-SFB : SFS Aviation

BK117B-1
1070
HS-SFC : SFS Aviation, to HS-CCA

S-76C
760577
HS-SFC : SFS Aviation

S-76C
760590
2005
HS-SFD : SFS Aviation

S-76C
760592
2005
HS-SFE : Si Chang Flying Service Co. Ltd from Nov05; SFS Aviation

EC120B
1522
2007
HS-SFF : SFS Aviation Apr/Oct 2008

AW139
41001
2007
HS-SFG : SFS Aviation Dec10-Jun11, ex N428NE, to PR-CDV

AW139
31146
2008
HS-SFH : SFS Aviation Mar11-May14

AW139
31382
HS-SFI : SFS Aviation from Dec11

AW139
41310
HS-SFJ : SFS Aviation Oct12

AW139
31501
HS-SFK : SFS Aviation from Jul13
: based at Songkhla Airport

AW139
41359
2013
HS-SFL : SFS Aviation, noted Jan14, reg not confirmed, Mar14 to Spain

AW139
41360
2013
HS-SFN : SFS o/o as Jun14, ntu


14 Construction Numbers in this organisation found