The Republic of Korea Coast Guard, an external branch of Ministry of Maritime Affairs & Fisheries, is responsible for maritime safety and control off the coast of South Korea.
Second S-92 to South Korea Coast Guard, 27-Jun-17 : South Korea Coast Guard accepted its second S-92 during a ceremony today at Sikorsky facility. Scheduled to enter service by end of the year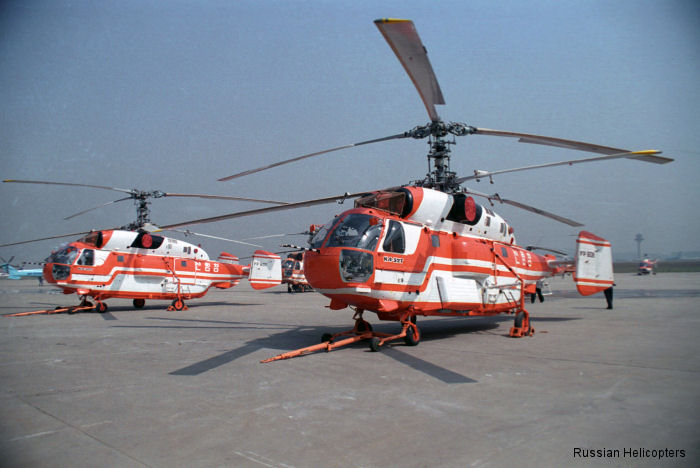 Russian Support for South Korea KA-32 Engines, 08-Oct-15 : South Korea's Civil Aviation Authority and Heli Korea visited Russian Helicopters Aviation Repair Plant No. 150 and extended a certificate for maintenance of Ka-32 helicopter engines.
Model
C/N
Built
ID
412SP
33191
B501 : Coast Guard, ex 953

ka-32
9104
B502 : Coast Guard, ex 960

ka-32
9109
B503 : Coast Guard, ex 961

ka-32
9108
B504 : Coast Guard, ex 962

ka-32
9501
B505 : Coast Guard, ex 963

ka-32
9502
B506 : Coast Guard, ex 964

ka-32
9503
B507 : Coast Guard, ex 965

ka-32
9504
B508 : Coast Guard, ex 965

ka-32
9505
B509 : Coast Guard, ex 967

AS565MB Panther
6644
B510 : Coast Guard, ex 968, test serial F-ZKBF

AS565MB Panther
6651
B511 : Coast Guard, ex 969; w/o 13mar15 ambulance flight, trying to land ...

AS565MB Panther
6707
B512 : Coast Guard, ex 970, test serial F-ZKBL

AS565MB Panther
6711
B513 : Coast Guard, ex 971, test serial F-ZKBD

AS565MB Panther
6731
B514 : Coast Guard, ex 972

AS565MB Panther
6800
B515 : Coast Guard, test serial F-ZKBA

AW139
31264
B516 : Coast Guard d/d Oct09
: w/o 23feb11

AW139
31265
B517 : Coast Guard d/d Oct09

AW139
B518 : Coast Guard, noted Sep13

S-92A
92-0195
2013
B519 : South Korea Coast Guard from Mar14
: Sep16 completed 2yrs/750hs inspection by Heli-One
: 27feb17 pictured during rescue

S-92A
92-0294
2015
B520 : South Korea Coast Guard from Jun17, test serial N294Y


20 Construction Numbers in this organisation found