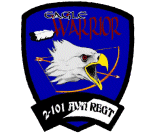 2nd Battalion, 101st Aviation Regiment flying with 5 units.
A Company
Highlanders
B Company
Gremlins
C Company
Ghostriders
D Company
Warlocks
HHC
Renegades

---
This unit was activated at Ft. Rucker, AL in 1987. Our call sign was Ghost Rider. Transitioned from AH-1 to AH-64 in 1988

This unit was at Sabre AAF on the south end of Ft Campbell until 1994 at which time it moved to Campbell AAF.

2-101 AVN List of helicopters

Help Us
C/N
Version
Built
In this Org
In other Org