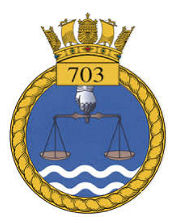 Tail Codes
FD
1950/55
PO
1972/81
Formed 3 Jun 1942 as a long range catapult squadron. Fixed wing aircraft from various bases, including intensive carrier trials in the early 1950s, until Aug 1955 when it amalgamated with
771 Squadron
and the whole was renumbered as
700 Squadron
. Reformed on 22 Jan 1972 at RNAS Portland, as it split from
829 Squadron
to concentrate on Wasp ships flight training. In Feb 1975 it also took on the Wasp advanced training role from
706 Squadron
. Disbanded on 1 Jan 1981 when it was re-absorbed by 829 Squadron.

---
I served in 703 squadron NASWDU from early 1946 to late 1947 and among the Mosquitos, Barracudas, Avengers and so on we had helicopters which we tested with floats as well as wheels.

I only remember one (1) helicopter I think it was a Sikorsky Gadfly. I helped service air-frames of the the TBM3's. There was a DH Dragon Rapide.