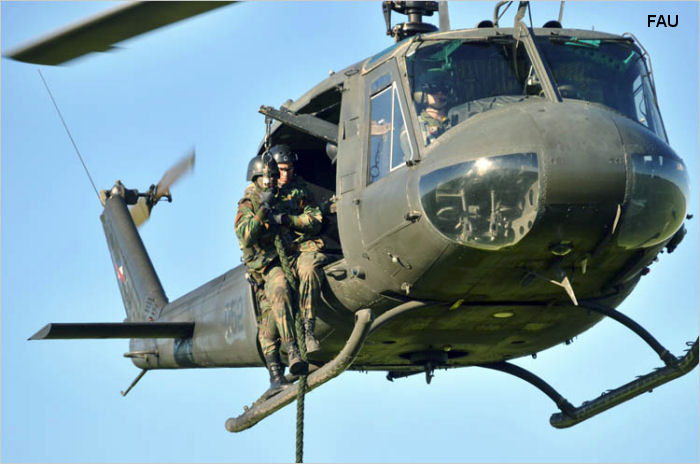 Established on 25 Jul 1955 as the Provisional Search and Rescue Group, with two Bell H-13G for SAR, and a fixed wing flight for customs and mail duties. In Jul 1964 two Hiller H-23F Raven helicopters arrived and the Group was renamed Air Group No.5 (Search and Rescue) on 9 Jul 1965. In 1966 the Group received more Hiller H-23F helicopters (and a Cessna U-17A Skywagon). In 1970, two US Bell UH-1H Iroquois helicopters were received and another one was added to its inventory in 1973. By 1975, another six ex-USAF, utility role UH-1B were obtained. In 1980, two twin turbine Bell 212 helicopters were flown in from the United States to Uruguay by their crews, along the long Atlantic route. During an Air Force re-organization the Group took its present name on 27 Apr 1994.

Six Westland Wessex HC2 were acquired from the RAF that had been used in Hong Kong in 1997. Also in 1997, two new Eurocopter AS-365N2 Dauphin helicopters of French origin were obtained for presidential transport and search and rescue. In 2002, two more Westland Wessex HC2 were acquired.

The unit has a distinguished Search and Rescue record and has an annual mission to support the Artigas Scientific Base in Antarctica, during the research season.
The Bell 212 are also involved in Peacekeeping missions under United Nations flag UNMEE ( Eritrea ) and MONUC ( Congo ).

Motto Volando para que otros puedan vivir (Flying for others can live )