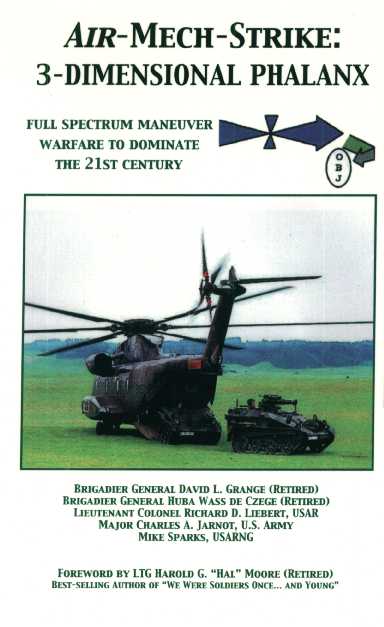 Columbus, Georgia--A group of active, reserve and retired Soldiers, called the Air-Mech-Strike Study Group (AMS-SG) have just published a book reinforcing the U.S. Army's current "transformation" initiative to provide full 3-Dimensional warfare capabilities. The AMS concept recommends optimizing Army and USAF Aviation to Air Assault and Airdrop Airborne, Light, Mechanized forces throughout an area of operations on any type of operations our Army is told to respond. Called, "Air-Mech-Strike 3-Dimensional Phalanx full-spectrum maneuver warfare for the 21st century" the book takes up where Colonel Douglas MacGregor's "Breaking the Phalanx" left off 3 years ago when it proposed creating combined-arms Brigade Combat Teams (BCTs). This book advocates retaining Army Divisions, which are configured to provide maximum flexibility throughout the full spectrum of conflict.

The book is a result of a dedicated staff of volunteer authors who all contributed to the book, making it a true "group" effort. The principal authors listed on the cover, retired Brigadier Generals David L. Grange and Huba Wass De Czege, Army Reservist Lieutenant Colonel Richard D. Liebert, Army Major Charles A. Jarnot and Michael L. Sparks of the Army National Guard with the rest of the AMS-SG staff outline how to reorganize the U.S. Army into a fully 3-Dimensional maneuver, ground force with terrain-agile, armored fighting vehicles sized to rapidly deploy by fixed-wing and rotary-wing aircraft. The plan to build the Army into Air-Mech-Strike Forces, exploiting emerging information-age technologies, as well as America's supremacy in aircraft and helicopter delivery systems, at the lowest cost to the taxpayers, is described in detail. These Army warfighting organizations, using existing and some newly purchased equipment, will shape the battlefield to America's advantage, preserving the peace before it is lost; if not, then winning fights that must be fought quickly. The dangerous world we live in moves by the speed of the AIR, and the 21st Century U.S. Army Phalanx will dominate this medium by Air-Mech-Strike!

The U.S. Army leadership has begun their bold and aggressive movement toward the "transformation" of this nation's primary land combat force. In describing the Army's new vision, Army Chief of Staff General Eric Shinseki stated :

"The world situation demands an Army that is strategically responsive. The Army's core competency remains fighting and winning our Nation's wars; however, the Army must also be capable of operating throughout the range of conflict -- to include low-intensity operations and countering asymmetric threats. It must, therefore, be more versatile, agile, lethal, and survivable. It must be able to provide early-entry forces that can operate jointly, without access to fixed forward bases, and still have the power to slug-it-out and win campaigns decisively. At this point in our march through history, our heavy forces are too heavy and our light forces lack staying power. Heavy forces must be more strategically deployable and more agile with a smaller logistical footprint, and light forces must be more lethal, survivable, and tactically mobile. Achieving this paradigm will require innovative thinking about structure, modernization efforts, and spending."

This initiative has already led to the creation of the Army's Initial Brigade Combat Teams (IBCTs). Now taking shape at Fort Lewis, Washington, the new IBCTs are a version of the physical manifestation of combined-arms proposals enunciated in thought-provoking works like Colonel Douglas MacGregor's "Breaking the Phalanx."

Within the next few weeks, service representatives will brief Congress on their choice of a new "Interim Armored Vehicle" to equip the emerging IBCTs. Their decision will reflect the results of a year-long process that has studied, tested and evaluated a wide range of both wheeled and tracked vehicle systems designed to provide these units with a number of critical 21st Century combat performance capabilities identified by Army doctrinal planners.

These combat, support and recon vehicle decisions must take into consideration the vital lessons of WWII, Korea, Vietnam, Grenada, Panama, Desert Storm, Somalia, Haiti, East Timor, Bosnia, and Albania-Kosovo; critical lessons, obtained in part through the expenditure of American blood and lives, call for our rapid response force to be equipped with mobile protected firepower and should be capable of transport by both USAF aircraft and Army rotary-wing cargo helicopters a Three-Dimensional Combat Capability.

3-D maneuver forces provide on-scene commanders with the ability to fly over and around enemy mines, obstacles, and rough terrain without the predictable route restrictions of a 2-D force. The Army should not rush toward a vehicle acquisition that might be optimum for European road networks and peacekeeping operations at the expense of off-road mobility, armored survivability and 3-D operational flexibility.

The on-going transformation and vehicle debates prompted a number of current and former service members to embark on a parallel analysis of 3-D warfare known as "Air-Mech-Strike". The results of that analysis has been published under the title "Air-Mech-Strike 3-Dimensional Phalanx, full spectrum maneuver warfare for the 21st Century" by Turner publishing.

Simply stated, the study advances the IBCT transformation concept fully to create the best possible 2-D/3-D synergism in all Army combat divisions. As the primary land force, supported BY the world's preeminent, strategic air power, America's Army must be structured to capitalize on command of the air by gaining decisive maneuver and fire using air-delivered, survivable, all-terrain, highly-mobile vehicles in all terrain conditions. Some state there are no differences between wheeled and tracked armored fighting vehicles (AFVs). However, there are important differences when it comes to 3-D warfare. The Air-Mech-Strike study looks at the application of vehicles already found in U.S. Army inventories, along with other modest buys, and the deployment / employment of these terrain-agile vehicles by fixed and rotary-wing aircraft.

Using the legendary, proven, upgraded CH-47 Chinook-transportable M113 as the interim base for the Army's IBCTs, the 3-D equipment concept enhances strategic, rapid deployment capability through the addition of UH-60L transportable small tracked AFVs (like the German Wiesel) for armed reconnaissance. The Wiesel can be flown on pre-loaded cargo 747s, saving USAF lift sorties to deliver the heavier M1 Abrams/M2 Bradley 2-D elements of the force structure, enhancing rapid-deployment combat operations.

Moreover, maximizing existing AFVs to conserve tax dollars, its possible to fully field BCTs in every U.S. Army Division, rather than a selected number of Brigades with reduced numbers of vehicles. By optimizing cost savings, the AMS study also recommends the Army type-classified M8 Armored Gun System, light tank, with shoot-on-the-move 105mm tank-killing, building-busting firepower.

The Army should optimize existing tracked M113A3/4s, some new purchase Wiesels and M8s as the new IAVs, AND field an Air-Mech-Strike force today exploiting America's dominance in aircraft and computer technology, while retaining a heavy 2-D force structure. This provides our country with a 3-Dimensional maneuver capability prior to the fielding of the 2012-2020 time frame follow-on Future Combat System.

Proceeds from the book will go to charities.

Some of the advance reviews of the book : "If you care about our Army read this book! Dave Grange's team has come up with some new thinking in "Air-Mech-Strike 3-Dimensional Phalanx" on how to move faster, strike harder and do more without spending a fortune designing all-new equipment. Their ideas deserve a fair hearing at the top decision-making levels of the Army and DOD." Joseph L. Galloway Senior writer, U.S. News & World Report Co-author "We Were Soldiers Once....and Young."

"Air-Mech-Strike is a must read concerning the most important debate now facing any and all who want to understand future war. The book's essence fighting will be three-dimensional. The flat map becomes a cube with the air another flank to be exploited. Chapter and verse, with plenty of challenging thinking." General John R. Galvin (U.S. Army Retired) Dean and hold of the Charles F. Adams/Raytheon Chair

"Air-Mech-Strike is a monumental work in progress and a credit to the military expertise of its authors. It advocates providing the enhancement of combat power to Airborne and light forces essential to deal with the future challenges of Small Scale Contingencies and then some." General Volney F. Warner (U.S. Army, Retired) Former XVIIIth Airborne Corps Commander

"Today's Army is smack in the middle of a great transformation to build a more lethal, more deployable fighting force. Significantly, the Army leadership is pushing hard for realistic, practical solutions now, not in two decades. This book proposes just such solutions. The authors are worthy successors to Lieutenant General Jim Gavin and Lieutenant General Hamilton Howze, visionary leaders who introduced the gospel of airmobility to our Army nearly half a century ago. If you want to know how a transformed U.S. Army can fight and win in wars and confrontations great and small, read this book." Colonel Daniel P. Bolger, distinguished author of Dragons at War, Death Ground American infantry in battle, The Battle for Hunger Hill