Wednesday, July 14, 1999:
German Navy's first Super Sea Lynx rolled out
Yeovil, UK ( GKN-Westland Press Release ) - The first of the German Navy's new Mk88A Super Sea Lynx was rolled out today at a ceremony at GKN Westland Helicopters factory in Yeovil, UK. The aircraft is one of seven new Super Sea Lynx ordered by the German Navy in 1996.
Hosted by Richard Case, Chief Executive of GKN Westland Helicopters, the roll-out ceremony was attended by more than a hundred representatives from the German armed forces, suppliers and GKN Westland staff. The principal guests were Herr Goebel, Vice President, Technical, of the BWB, the German defence procurement agency, and Admiral Otto, Commander of the German Naval Air Arm.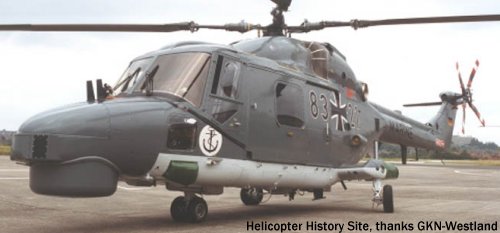 During the ceremony, Richard Case spoke of the long association between GKN Westland and the German armed forces. "Our association started some forty years ago with the entry into service of the first Bristol Sycamore at Kiel," he said. "That was followed in the 1970's with the Sea King Mk41 and in the 1980's with the Sea Lynx Mk88. Throughout this time we have worked closely with the BWB, the German Navy and the Luftwaffe to jointly support and upgrade these fleets. We are very pleased that our own confidence in the Lynx has been endorsed by the German Navy's decision to buy seven new aircraft and upgrade their existing fleet to Super Lynx standard. The Super Lynx is still the world's finest shipborne helicopter and I have no doubt it will serve the German Navy well for many years to come."
The Super Sea Lynx Mk88A is the latest and most capable of the Lynx naval family. Fitted with Marconi Sea Spray 3000 radar and multi-role turret (MRT) forward looking infra red, Rolls-Royce GEM 42 engines and BAe Matra Sea Skua air to surface missiles, it is a significant force multiplier for the German Navy's Type 122 and 123 frigates. In a separate contract, GKN Westland are working together with Eurocopter Deutschland to upgrade the German Navy's seventeen existing Mk88 Sea Lynx to Mk88A standard.
Over 400 Lynx have been sold to eleven navies worldwide since it first entered service with the Royal Navy in the mid 1970's. In addition to the German contract, GKN Westland are also upgrading Denmark's eight Lynx to Super Lynx standard and building thirteen new Super Lynx for a Far East customer. South Africa has selected the Super Lynx 300 for its maritime helicopter requirement and negotiations are continuing with Malaysia for up to six new aircraft.