Sunday May 28, 2000
Police Looking For Stolen Helicopter
Norwood Airport, Massachusetts, USA ( WCVB-TV Online ) - Holiday weekends are busy times at airports, even for small ones like the Norwood Airport. So nobody thought too much about it when a pilot took off in a helicopter a little after 7 a.m. Sunday morning.
The problem is, the helicopter never came back.
Police are investigating the theft of a R-22 Robinson two-seat helicopter, which belonged to Northern Lights Helicopter Inc. The pilot got in the helicopter, started it up, asked permission from the tower to take off and flew away in a northwesterly direction.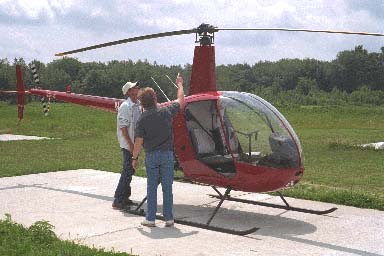 The pilot turned off the helicopter's tracking device, so the tower only was able to track the helicopter for six miles. Flight instructor Andres Kerllenevich believes the thief was a pilot, although probably not someone who often used the Norwood Airport.
Kerllenevich knows this because the pilot's short conversation with the tower was recorded, and the pilot seemed unfamiliar with the airport.
Police are analyzing the recording.
The small helicopter only carries enough fuel to fly 2 1/2 hours. Airports up and down the east coast have been put on notice to look out for the helicopter.
Kerllenevich said he thinks the theft was planned, because a pair of headsets were stolen earlier this week, and the helicopter's keys were taken and replaced with a set of phonies.
"They were just probably laying and watching for their opportunity to strike," he said.