Monday June 4, 2001 :
Radian's Military Parts Reinvention Network to "Reinvent" H-3 Helicopter Yaw Bell Crank
ALEXANDRIA, Virginia, USA ( Radian Inc Press Release ) - The Military Parts Reinvention Network (www.milparts.net) a Radian Technology Group, announces an award to evaluate stress reduction design alternatives for the H-3 helicopter yaw bell crank. Under the rapid response program guidelines, MILPARTS will propose design alternatives and manufacture replacement units.
There have been several reported incidents of yaw bell crank stress fractures on H-3 helicopters. As a safety precaution, the Naval Air Systems Command (NAVAIR), Patuxent River, MD, program office has scheduled frequent (125-hour) non-destructive inspections (NDI) and early replacement (1,000 hours) of the yaw bell crank.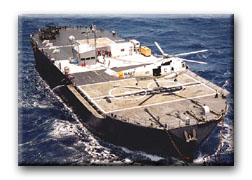 The labor cost of these inspections includes gaining access to the yaw bell crank by removing portions of unique mission equipment. There is also a concern that frequent removal and replacement of the yaw bell crank might introduce secondary failures.
The objective of this effort is to rapidly reinvent, produce, and first article test alternative designs of the yaw bell crank to establish a production process for government review, subsequent approval, and low-rate initial production of 50 articles. All fabrication and test requirements will be derived from NAVAIR-supplied documentation.

Radian Inc. is a leading provider of engineering, logistics, and technology services to Department of Defense, civilian agencies, and commercial clients. Radian successfully leverages a unique combination of institutional knowledge and technical expertise to bring progressive solutions to the marketplace. Radian's Military Parts (MILPARTS) Reinvention Network technology offers a truly state-of-the-art solution to the rapidly growing parts obsolescence dilemma.