Tuesday February 28, 2006
MD MD Helicopters Makes Safety Equipment Standard On All Aircraft
MESA, ARIZONA, USA ( MD Helicopters Press Release ) - MD Helicopters, Inc. (MDHI) has long been standing on the precipice - and will continue with a further commitment to pioneer cutting-edge helicopter technology. The company announced today that it was taking bold steps to support the safety recommendations of the International Helicopter Safety Team (IHST). Beginning with 2007 aircraft deliveries, all MDHI products will include wire strikes, cockpit voice and video recorders, health and usage monitoring systems (HUMS), terrain awareness warning system (TAWS). Additionally, a Fly Safety Training package will be added to MDHI's Training Program.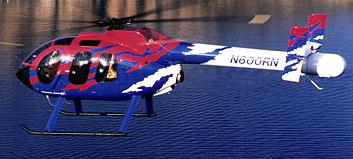 "We are committed to set the standard of support to improve safety and to modify the negative perception tainting the rotorcraft industry by using the recommendations and counsel of IHST," said MDHI Chairman Lynn Tilton. "As part of the promise I have made to be the poster child for the IHST, we will include, as standard equipment, the additional components and training technology on all new aircraft deliveries beginning in 2007. In addition, we will make available a 'safety kit' and support to retrofit all existing aircraft."
The IHST was formed by the Federal Aviation Administration, American Helicopter Society and the Helicopter Association International to facilitate safety improvement in the industry. IHST has set a goal for reduction in helicopter accident by 80 percent over the next five years. In addition to increased safety, HUMS monitoring offers reduced maintenance cost as it allows operators to record meaningful data that facilitates increased maintenance efficiency.
"MDHI has always been focused on ways to improve safety," said Andy Logan, Chief Technology Officer for MDHI. "At the heart of NOTAR technology lies a fundamental safety 'edge.' The removal of the traditional tail rotor and replacement with an aerodynamic system ensures both the lower probability of failure as well as eliminates the myriad accidents caused by tail rotor strike."

MD Helicopters is a leading manufacturer of commercial and military helicopters. The MDHI family of rotorcraft is world renowned for their value, versatility and performance. The MD Helicopters family includes the twin-engine MD Explorer®, and single engine versions of the MD 600N®, MD 520N®, MD 500E® and MD 530F®. The NOTAR® system for anti-torque control is the exclusive property of MD Helicopters. The Company is based in Mesa, Arizona.
Patriarch Partners, LLC is an investment firm in New York and Charlotte, North Carolina which together with its affiliates, provides portfolio management services and serves as investment advisor to multiple leveraged funds and a private equity fund. Founded in 2000 by Lynn Tilton, Patriarch provides innovative financial solutions, strategic direction and operational expertise to companies undergoing periods of pervasive change. Patriarch currently monitors credit facilities in respect to approximately $5 billion dollars of assets under its management, including equity positions (majority and minority) in more than 65 companies. Lynn Tilton serves as Chairman of the Board of MDHI. Funds managed by Patriarch Partners own a majority and controlling interest in MDHI.