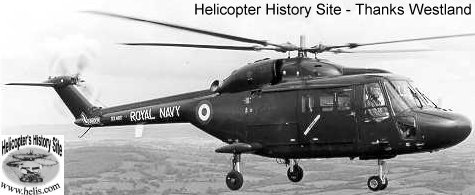 The Westland WG.13 development started in the mid-1960s as a replacement for the Westland Scout and Wasp in Army and Navy service. The Lynx was the third of the trio of helicopters involved in the 1967 British-French collaborative deal, Westland holding the design authority for the aircraft. The semi rigid rotor was an important feature, intended to offer high manoeuvrability and good handling for shipborne operations.
The naval Lynx was designed from the outset to operate from small ships, the excellent handling available through the semi rigid rotor and the Westland deck lock and high energy absorbing landing gear have all resulted in worldwide success.
Westland began design work on an upgraded Lynx in 1996. By Aug 2004, there were 3 variants of
Super Lynx
, all of which have advanced, carbon and glassfibre reinforced 4 bladed main rotors protected by titanuium and nickel shields, as standard. The
Series 100
has a standard cockpit and Rolls-Royce GEM 42 engines; the
Series 200
has LHTEC CTS800 engines; and the
Series 300
with LHTEC CTS800-4N engines and a highly integrated glass cockpit provided via a colour LCD display.

Since 2001 as a result of the agreement drawn up by Finmeccanica SpA of Italy and GKN plc of the UK the Lynx is produced and marketed by
AgustaWestland

Final UK Lynx Helicopter Depth Overhaul, 07-Dec-15 : After 37-year support, Vector Aerospace held a ceremony to commemorate the last Depth maintenance event to be completed on a UK Armed Forces Lynx helicopter. Lynx being replaced by Wildcat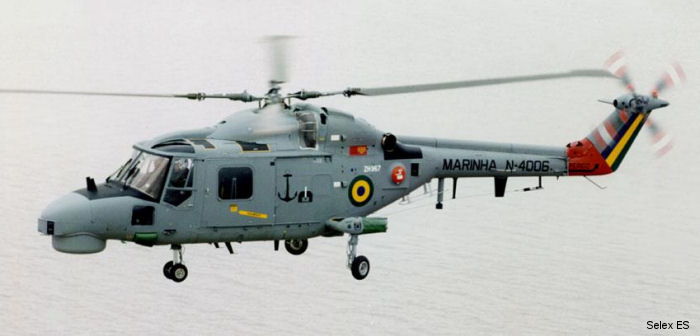 EW Update for 8 Brazilian Navy Lynx Mk.21A, 02-Sep-15 : Brazilian Navy 8 Lynx Mk.21A will receive Selex ES SAGE electronic support measure along with the company's defensive aid suite controller and a third-party countermeasure dispensing system.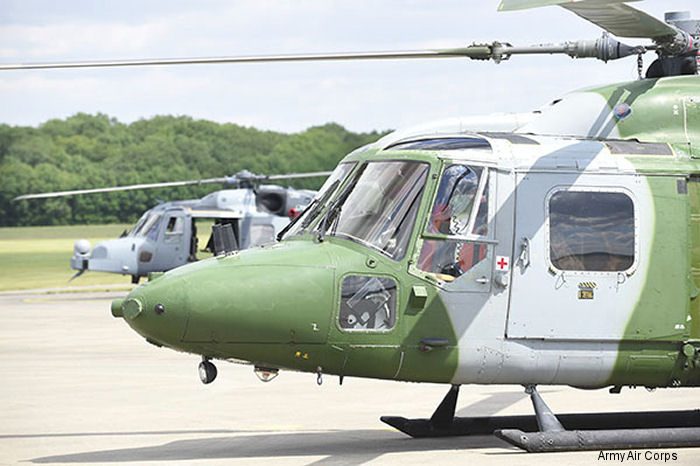 British Army Retires Last Lynx AH.7, 31-Jul-15 : British Army Air Corps retires their last Lynx AH.7 helicopter on a farewell ceremony at Middle Wallop. They will continue to use the AH.9A (until 2018) and the recently introduced Wildcat
More News ...
Model
Year
History
Lynx HAS2
1976
Original version built for the Royal Navy (Fleet Air Arm)

Lynx mk21
1977
Export version of the HAS.2 for the Brazilian Navy. Designated SAH-11 in brazilian service. Survivors upgrade to Mk21a variant

Lynx AH1
1977
First British Army variant. 113 built between 1977-1984. Most converted to AH.7 variant

Lynx HAS2 (FN)
1977
Original version built for the French Navy

Lynx mk23
1977
Export version of the HAS.2 for the Argentine Navy

Lynx mk25
1977
Export version of the HAS.2 for the Royal Netherlands Navy. Designated UH-14A in Dutch service

Lynx mk27
1978
Second version of the Royal Netherlands Navy. Designated SH-14B in Dutch service

Lynx mk28
1978
The Qatari Police become the opnly export customer for the Army Battlefield Lynx when they purchased three Lynx HC.28 helicopters in 197?. These ...

Lynx Mk81
1979
Third version of the Royal Netherlands Navy. Designated SH-14C in Dutch service.

Lynx HAS2ICE
1980
GM= Gulf Modification. Lynx HAS2 that were modified with extra cooling package for service in the Persian Gulf with electronic warfare and IFF. N ...

Lynx HAS3
1980
The HAS.3 was introduced to provided an uprated helicopter from the HAS.2 using the improved Rolls-Royce Gem 42-1 turboshaft engines and upgrade ...
The Lynx HAS.3 was retired from FAA service in a ceremony at RNAS Yeovilton on 1 Apr 2013.

Lynx mk80
1980
Delivered to the Royal Danish Navy and based on the Royal Navy HAS3 but without the folding tail

Lynx mk86
1980
The Westland Sea Lynx Mk.86 is used by the RNoAF as a Coast Guard helicopter, performing SAR and fishery protection. The Lynx helicopter are used ...

Lynx mk87
1981
Embargoed export version of the Argentine Navy

Lynx mk88
1981
German Navy variant of British Sea Lynx Mk8. Survivors upgraded to Mk 88a type

30
1982
The Westland 30 was a medium business helicopter developed from the Westland Lynx. Production ended in 1987 after only 40 had been built. 21 went ...

Lynx HAS4 (FN)
1982
Upgraded HAS2(FN) version for the French Navy, with Gem 42-1 engines and upgraded transmission. Fourteen built

Lynx mk90
1982
Modified embargoed Argentine Mk.87s later brought by the Royal Danish Navy. Upgraded to Super Lynx standard and designated Mk.90B

Lynx mk89
1983
Export version of the HAS.3 for Nigerian navy. Three built

Lynx 3
1984
Enhanced Lynx variant with Westland 30 tail boom and rotor, Gem 60 engines, new wheeled tricycle undercarriage and MIL-STD-1553 databus. Only one ...

Lynx AH7
1985
Upgraded version for the Army Air Corps, with Gem 41-1 engines and uprated gearbox of the AH.5 plus a larger, composite tail rotor. Twelve new b ...
The final flight of the Lynx AH.7 in AAC service took place at Middle Wallop on 31 Jul 2015.

Lynx AH9
1986
Lynx AH.9 is a small attack/utility helicopter, derived from the Lynx AH.7 (Super Lynx). The most striking external differences between the Lynx ...
16 new built plus 8 converted from AH.7 types. Converted later to AH.9A

Lynx HAS3CTS
1986
HAS.3S helicopers upgraded with a glass cockpit and improved avionics systems that were intended for the HMA.8 helicopter. Eight helicopters con ...

Lynx HAS3GM
1986
GM = Gulf Modification are aircraft given a cooling package for use in hot countries / areas such as the Persian Gulf during Iran / Iraqi war, an ...

Lynx HAS3ICE
1986
ICE = Antartic Operations, 4 aircraft modified for use on ice breaker patrol and research ship HMS Endurance. Two started out as HAS.2ICE (XZ246 ...

Lynx HAS3S
1987
S = Secure Speech modification to Avionics, main visual difference is the tail boom lower aerial is larger than the HAS 2/3 aerial and a pointed ...

Super Lynx mk99
1989
Super Lynx for the South Korean Navy, with Seaspray 3 radar in undernose radome, dipping sonar, and FLIR. Twelve built. Super Lynx Mk.99A is the ...

Lynx HAS3SGM
1990
GM = Gulf Modification are aircraft given a cooling package for use in hot countries / areas such as the Persian Gulf during Iran / Iraqi war, an ...

Lynx HMA.8
1991
HAS.3 upgraded based on Super Lynx 100 GEM42-200 engines, BERP type main rotors and the AH.7 larger tail rotor

Lynx HAS3SICE
1993
ICE = Antartic Operations, 4 aircraft modified for use on ice breaker patrol and research ship HMS Endurance. XZ246 was converted to HAS.3SICE (S ...

SH-14D
1993
Upgraded Lynx for Royal Netherlands Navy. All operational aircraft upgraded.

Super Lynx mk95
1993
Portuguese Navy Super Lynx. 3 new build and 2 ex HAS.3

Super Lynx mk21a
1996
Export version of the Super Lynx for the Brazilian navy. Designated AH-11A in brazilian service

Super Lynx mk88a
1999
New Built Super Lynx 100 variant plus rebuilt Mk88 survivors airframes

Super Lynx mk99a
1999
South Korean Navy Super Lynx variant

Lynx HMA8 (DSP)
2000
a standard HMA.8 modfied with a Digital Signal Processor system

AW Lynx
2001
Airframes built before 2001 listed as Westland Lynx