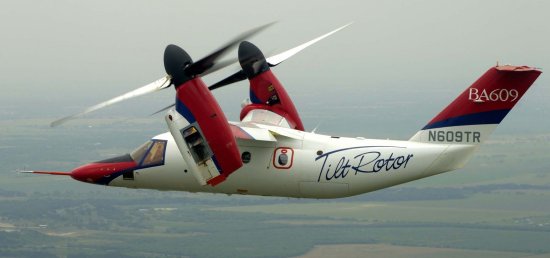 The BA609 is a six to nine passenger twin-engined tiltrotor mainly intended for the civilian market but with market applications for corporate business, offshore operators and government customers for a variety of roles including search and rescue, and internal security team insertion.
On May 1999, a compatibility test was demonstrated by the US Coast Guard using the predecessor
XV-15
under Bell 's name of
HV-609
on board a 270 foot USCG cutter, underway south of Key West, Florida. The test proved that deck compatibility is expected with the BA609 tiltrotor operationally on typical USCG ships.
On July 22 2005, prototype #1 performed its first conversion to aeroplane mode in flight.
On June 2011, The programme was bought by
AgustaWestland
and renamed
AW609
First Flight :
March 6, 2003
Crew:
2 + 9
Engines:
2 Pratt & Whitney Canada PT6C-67A x 1447 kW
Speed :
Max 510 km/h
Service Ceiling:
7600 m
Range:
1400 Km
Weight:
Empty: 4765 kg - Max: 7200
Payload:
2500 Kg
Rotors Diamenter:
7.93 m
Length:
13 m
Height:
4.5 m
Wingspan:
10 m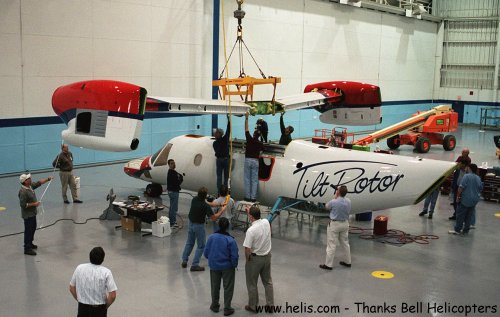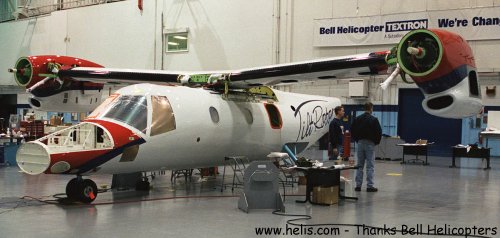 BA609 News Archive:

Bell / Agusta 609 Tiltrotor Presentation Oct 1999


Bell Textron Enters the 21st Century With New Orders
Dec 1999

World's first commercial Tiltrotor training academy
Nov 2000

Wing mated to Bell/Agusta Tiltrotor BA609
Dec 2000

BA609 Tests Set Stage For First Hover Flight
Dec 2002

BA609 Tiltrotor Achieves Airplane Mode
Jul 2005

Bell and AgustaWestland realignment of Joint Venture
Nov 2005

BA609 Tiltrotor Second Prototype Achieves First Flight
Nov 2006

BAAC 609 Flight Test Continues Development Pace
Jun 2007