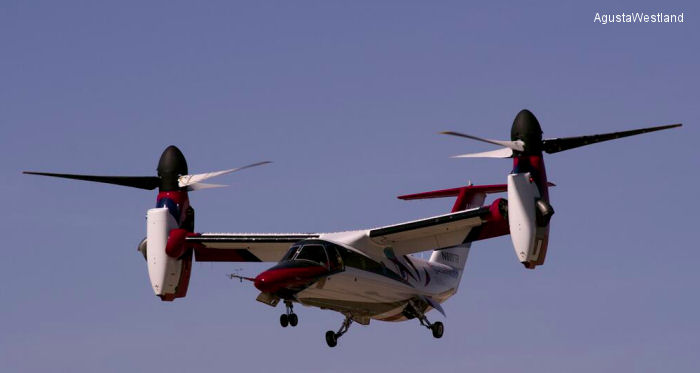 Formerly known as the
Bell/Agusta BA609
AgustaWestland announced the acquisition of ownership of the programme in June 2011 from Bell Agusta Aerospace Company (BAAC).
As of December 2011, the two prototypes have achieved more than 600 flight hours and the AW609 programme is to be managed by a single Integrated Development Team, based in Cascina Costa, Italy. AgustaWestland will also open a new operational base in Arlington, Texas, to manage US based tiltrotor operations.
As of July 2012, approximately 60 AW609 units have already been ordered by around 40 customers in over 20 countries.
The second prototype was lost in tragic accident on October 30, 2015. The First prototype resumed flight testing on August 3, 2016. Certification delayed at least up to 2018.
As of February 2019, the AW609 progress ahead of FAA certification including first production aircraft entering final assembly at the Philadelphia facility.
Model
Year
History
NGCTR
2021
The Next-Generation Civil Tiltrotor (NGCTR) is scheduled to fly in 2021. The 20-passenger rotorcraft, larger than the nine-seat AW609 model, sta ...





List of Operators of AgustaWestland AW609
| | |
| --- | --- |
| From | Organisation with model AW609 |
| 2011 | |
| 2015 | |
| 2020 | |
| 2022 | |
Construction Numbers on database of AW609 or its versions


C/N
Built as
Year
History
60001
2003
N609TR : Bell USA; Bell Agusta BA609 f/f 2003; 2011 to AgustaWes+
Maiden flight
pictured (pic1) at Arlington, Texas still reg Bell Heli+


N609TR

: AgustaWestland from Jun11


N609TR

: Feb14 at Anaheim, CA for Heli-Expo 2014
pictured (pic2) at HeliExpo 2015, Orlando, FL. Eastern +
03aug16 resumes flight testing after 2nd prototype acci+
15:00 at Richmond, VA
at AW Facility in Philadelphia
pictured (pic3)

60002
2006
N609AG : Bell USA; Bell Agusta BA609 f/f 2006; 2011 to AgustaWes+


N609AG

: AgustaWestland, PA from Jun11


N609AG

: AgustaWestland from Jun11
pictured (pic1) at Cascina Costa flight test facility,+
pictured (pic2) and video on display at Yeovilton Air +
pictured (pic3) at Rivolto Airbase, 55th Anniversary P+
w/o near Santhià, Vercelli. 2 fatalities

63003
N609PA : AgustaWestland, PA from Oct15; AC3
Feb17 preparing for ice trials


engine-handling certification flight test, see tracking

63004
N609PH : AgustaWestland, PA from Mar19 f/f pictured at Philadel+

63005
N609LH : AgustaWestland, PA from Jan20

5 C/N.