Helicopter Sikorsky HUS-1 / UH-34D Seahorse Serial 58-1193 Register 148079 C-FCHD N4582B N506 N62254 N6BL N6BY used by US Navy (United States Naval Aviation) US Marine Corps 5 State Helicopters. Built 1960. Aircraft history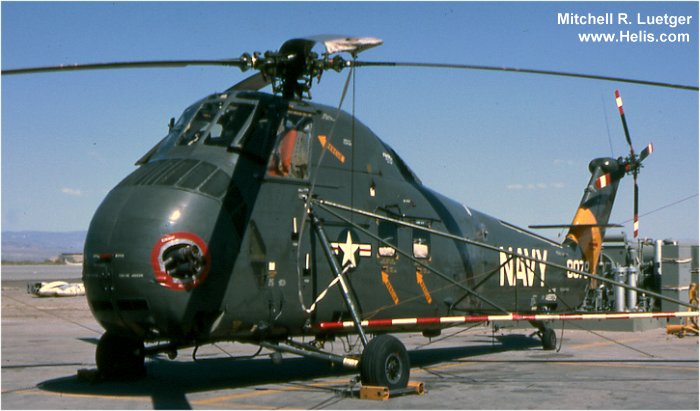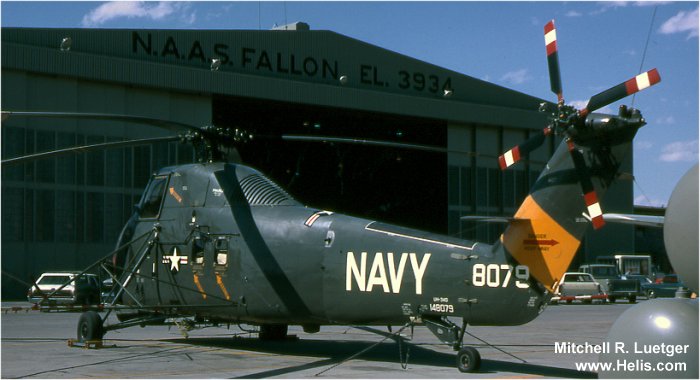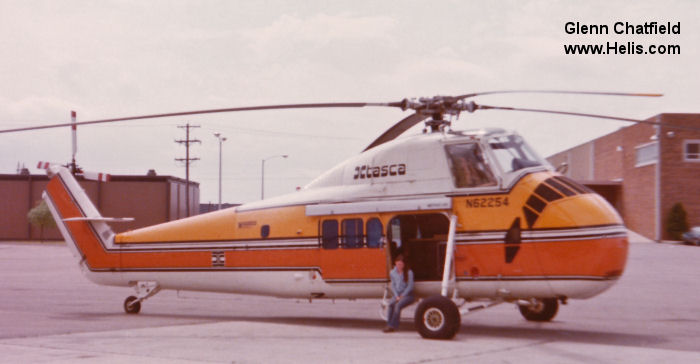 ID

148079


US Marine Corps
Sikorsky HUS-1, cn 58-1193, ff:?
del USMC as HUS-1, 148079, 02Mar60
redesig UH-34D, Oct62


148079


US Navy
NAS Fallon base SAR aircraft ( 1968 )
May 1968 (top and middle) at NAS Fallon as one of the two SAR base helos

N62254



Columbus ( jun-77 )
Jun77 (bot) ITASCA mrks at Port Columbus International Airport, Columbus, OH
Conv by Winnebago Industries as a prototype for marketing Heli-Home/Heli-Camper, after remanufacture of the airframe by Orlando Helicopter Airways. It has sleeping facilities for four, 4 cubic foot electric refrigerator, 2-burner electric range, 40,000 BTU furnace, dual hot water heaters, shower, wash basin, toilet, 6000 BTU a/c, 3500 watt generator, dual storage batteries, 110 volt ground plug-in, full beverage service center, color TV, AM/FM stereo and tape system, two water tanks, two holding tanks, full carpeting and soundproofing, detachable awning and screen enclosure. Intended for use as RV, field office, etc., with various interiors available in production models, which would also be built from S-55 types

C-FCHD



Coast Helicopters Sep82-Dec83, op Transwest

N506



5 State Helicopters

148079


US Navy
xfer USN as UH-34D 148079, NAAS Fallon, NV, unk
wfu & xfer AMARC as ???, 31Dec70, soc Oct73


N62254



xfer Orlando Helicopter as S-58H, N62254, Jan76
converted into ITASCA-Winnebago Heli-Home, Oct76
soc 17Apr81


C-FCHD



xfer Coast Helicopter as C-FCHD, 17Apr81


N4582B


5 State Helicopters
xfer Klochko Equipment, US as N4582B, 19Dec83
lsd Brad Ladue, unk
xfer 5 State Helicopter as N4582B, 19Feb92


N6BY


5 State Helicopters
rereg 5 State Helicopter as N6BY, Jun94


N6BL


5 State Helicopters

For N6BL see also:
1962 h-34g.III c/n 58-1567


rereg 5 State Helicopter as N6BL, Oct94


N506


5 State Helicopters
rereg 5 State Helicopter as N506, unk
xfer Liftcopters as N506, 16Feb00
xfer Falcon Executive Helicopter as N506, 15May06.
| | |
| --- | --- |
| | |