Satellite and aerial maps of RAF Odiham with nearby locations
Toggle Map
1936 to present

51° 14' 4'' N - 0° 56' 57'' W
6nm ESE of Basingstoke, Hampshire
ICAO: EGVO
IATA: ODH
Elevation: 405 feet

Originally a temporary Summer Landing Ground, Odiham opened in 1936 as an Army Co-operation base. Tactical reconnaissance and fighter roles followed before the base began an affiliation with Transport duties, particularly helicopters, that continues to this day.
After 7 months care and maintenance, RAF Odiham re-opened in Feb 1960 as part of 38 Group Transport Command, and 225 Squadron was formed with the Sycamore and Whirlwind. The Belvedere Trials Unit introduced this radical helicopter into service from July 1960 with 66, 72 and 26 Squadrons all forming with the Belvedere at Odiham in Sep 1961 (from the Trials Unit), Nov 1961 and Jun 1962 respectively. Only 72 Squadron remained; 66 Squadron departed for the Far East in 1962 and 26 Squadron left initially for the Middle East in 1963.
Belvedere operations and overseas departures overlapped with the arrival of the Wessex HC.2, beginning with the establishment of the Wessex IFTU in Jul 1961 and the formation of 18 Squadron from it in Feb 1964 and the re-equipping of 72 Squadron in Aug 1964. 18 Squadron left for Germany in 1965, before yo-yoing briefly in 1969.
RAF Odiham was granted the Freedom of the Borough of Basingstoke in Jul 1968. In May 1971, Puma training began with the formation of a joint Puma / Wessex unit, the Air Training Squadron. Its important role was recognised by establishing 240 OCU in Dec 1971 to convert crews for the Puma and Wessex squadrons. 33 Squadron took up its Pumas in Jun 1971, followed by 230 Squadron some 6 months later.
By mid 1981, the Wessex had left for RAF Benson and RAF Odiham again hosted heavy lift helicopters, when their place was taken in 1982 by the Chinook HC.1. The OCU trained first 18 Squadron, which formed in Aug 1971 (before departing to Germany in May 1983) and in late 1982, 7 Squadron. The Chinooks of 7 Squadron and Pumas of 33 Squadron together with 240 OCU continued to operate at Odiham. During 1993/1994 the Chinook HC1 fleet was updated to the initially unreliable HC.2 version and 240 OCU was re-named 27(R) Squadron.
A major rethink of the UK Support Helicopter Force was implemented in 1997 and the Pumas moved out between mid 1997 and Feb 1998, while 18 Squadron returned from Germany leaving Odiham a Chinook-only base for a time. In Jul 2000 the Lynx of 657 Squadron, AAC moved in from RAF Dishforth.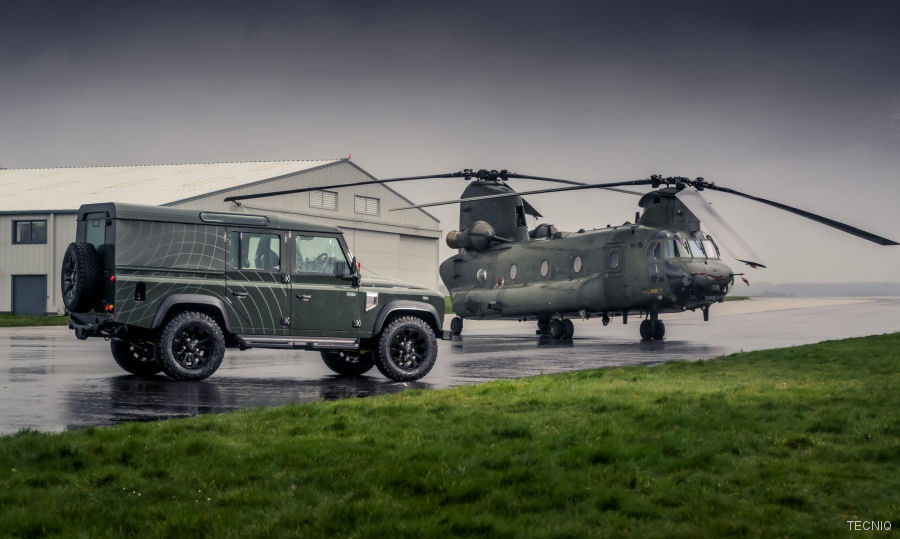 Q40 Defender Celebrates Chinook Anniversary, 05-May-22 : #Q40 TECNIQ, a British automotive design and manufacturing specialist, showcase Q40 Defender project celebrating 40th anniversary of the CH-47 Chinook in RAF service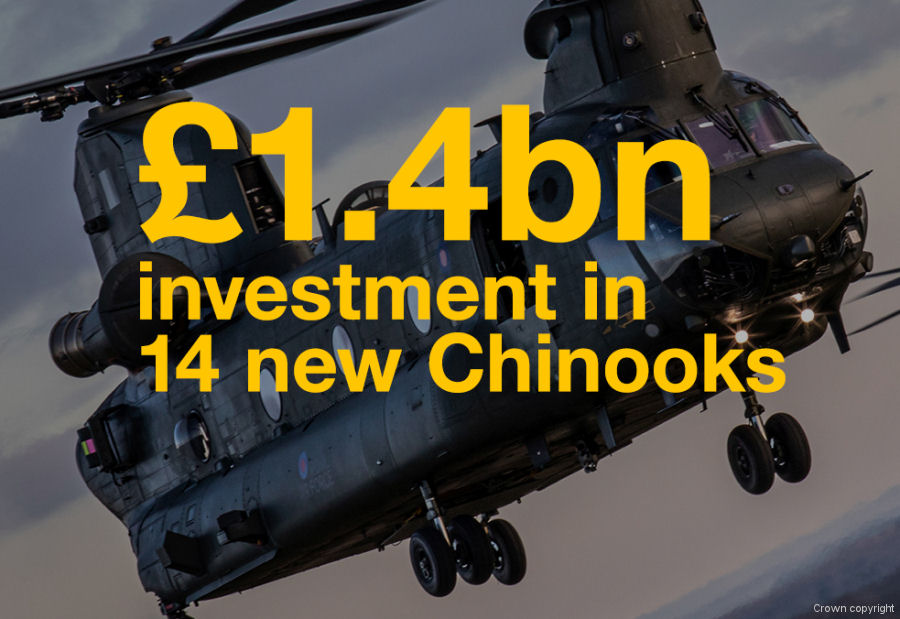 UK Confirms New Chinook Order, 13-May-21 : #Chinook As we announced last month the UK Government has now confirmed the acquisition of 14 new generation Chinook helicopters valued £1.4-billion under a U.S. Foreign Military Sale (FMS) contract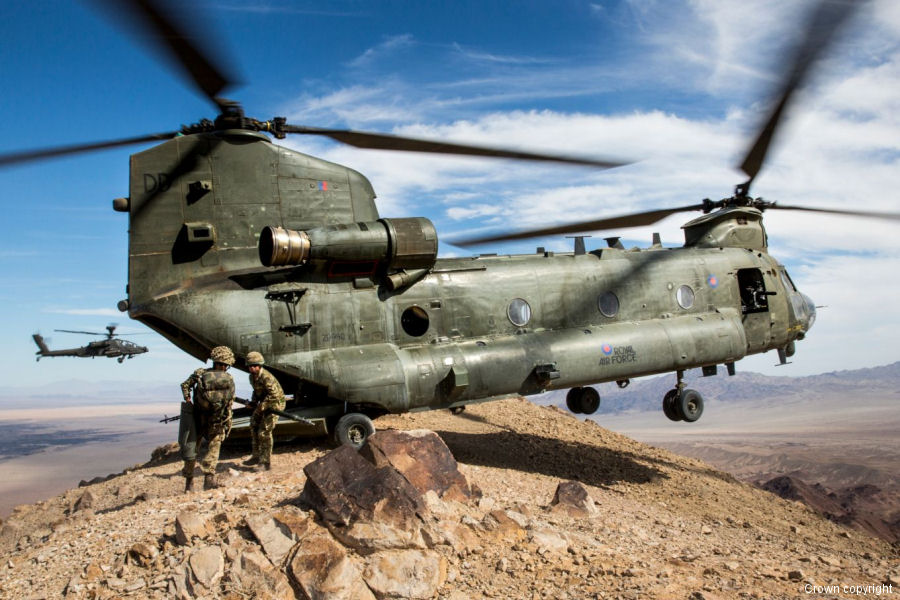 RAF Chinook 40th Anniversary, 01-Dec-20 : The Royal Air Force remembered the arrival at RAF Odiham on 22nd November 1980 of the first Chinook helicopter. The Chinook has been involved in every major conflict since then seeing action in the South Atlantic, Northern Ireland, Bosnia, Kosovo, Sierra Leone, Iraq and Afghanistan
RAF 1310 Flight in Mali, 12-Aug-20 : #Africa Detachments from Royal Air Force 18 and 27 Squadrons from RAF Odiham rotate every 3 to 4 months to provide crews to CH-47 Chinook helicopters deployed in Mali under Operation Newcombe in support of the French anti-terrorist mission Operation Barkhane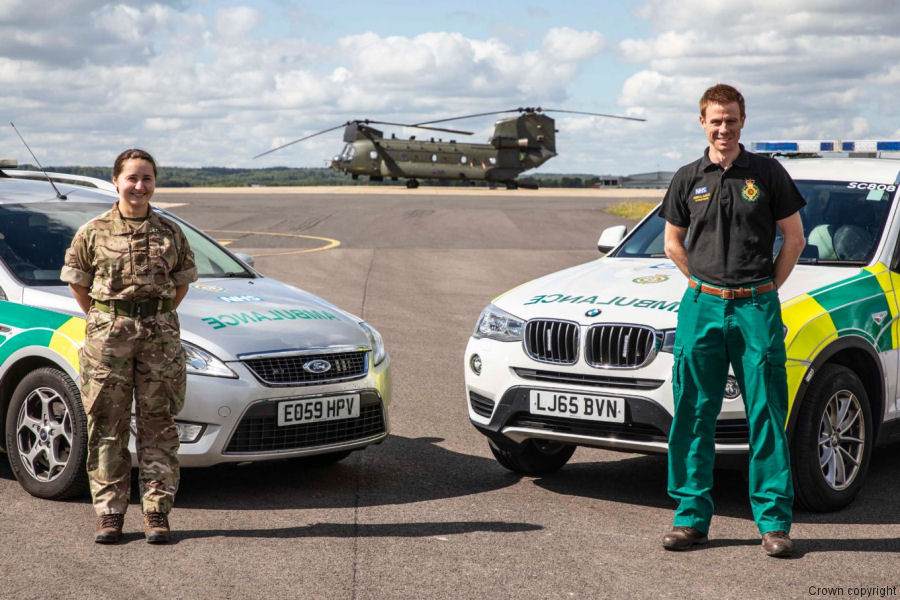 RAF Chinook Personnel Volunteering in NHS, 21-May-20 : #coronavirus RAF Odiham personnel supporting the National Health Service (NHS) by volunteering as co-responders for the South Central Ambulance Service
11-Apr-20 - RAF Chinook Recognized with Kossler Award

#Kossler
27-Apr-18 - Chinook Visits Historical RAF Germany Bases
05-Jan-18 - Farewell to British Army' Lynx
02-Jun-15 - RAF Chinook Mk.6 Simulators and Training System
16-Jun-14 - RAF unveil new Mark 6 Chinook