Satellite and aerial maps of Vicecomodoro Marambio with nearby locations
Toggle Map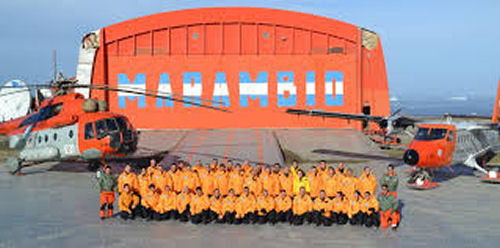 1969 to present

64° 14' 27.55'' S - 56° 37' 29.76'' W
Seymour Island, Antarctica
ICAO: SAWB
IATA:
Elevation: 232 feet
The first air explorations conducted by the
Argentine Air Force
date from 1951 when Vicecomodoro (Lieutenant Colonel) Marambio flew over Margarita Bay in the north east of the Antarctic Peninsula with the Avro Lincoln registration LV-ZEI called Cruz del Sur
Founded on October 29 1969, Marambio air base is open during the whole year. During the winter the base has an average of 55 crew members, but during the summers the population of the base can grow to 150.
The base has 27 buildings in a total area of 4,278 m2 of which 1,155 are used for accommodation. Has a 45 m2 medical suite attended by 1 doctor and 3 paramedic.
The 1200 m long rock runway is used by
Argentine air force
DHC-6 Twin Otter and C-130 Hercules that usually fly from Rio Gallegos or Ushuaia in southeast Argentina.
VII Air Brigade
deploys helicopters to Marambio during the summer (December-March) to resupply peninsula bases and support the international scientific campaign. Helicopters are normally airlifted by C-130 but the big ones had to complete a 6 hours flight from Tierra del Fuego. Chinooks performed the first Drake Passage crossing in November 1980 and nowadays continues with Mi-17.
Marambio and all other argentine antarctic bases are resupply during the summer by the icebreaker ARA Almirante Irizar with the
Navy Sea King
or
Army Super Puma
onboard. The icebreaker caught fire in 2007 and since then a Russian vessel with a Ka-32 helicopter is leased. The helicopters are essential to resupply the bases in order to them survive the hard anctarctic winter
List of aircraft and events at Vicecomodoro Marambio

Login to Edit