Satellite and aerial maps of HMD Portsmouth with nearby locations

Toggle Map









1212 to present
50° 48' 17'' N 1° 5' 53'' W
Portsmouth, Portsmouth, Hampshire, England
Elevation: 10 feet
Her Majestys Dockyard Portsmouth. The southern and eastern part of the site was essentially the shipbuilding and refitting yard. This has significantly contracted since 1970 and most of the land to the south has been released to tourism as
Portsmouth Historic Dockyard
.
There has been a Royal Dockyard at Portsmouth since 1212 after orders were issued by that rogue, King Richard I (the Lionheart), for a dock to be built.
As well as supporting the fleet, the Dockyard became a seat of engineering excellence and drivers of the industrial revolution, for instance with the invention of the first machine for making consistently reliable blocks and tackle for naval rigging.
The last ship built at the Yard was
HMS Andromeda
, launched in 1967.
It is fair to say that much of the southern part of the site today is more of a tourist destination, but there is still a Naval presence towards the north of the site and in the surrounding area. Portsmouth was long ago eclipsed by
Devonport Dockyard
as
Chatham
and then
Rosyth
closed and some of their facilities were re-distributed.
A visit to the Historic Dockyard is well worth it, if only to visit the
Action Stations
building. Go on a quiet day and you can have the
Merlin
simulator to yourself.

List of ships built at HMD Portsmouth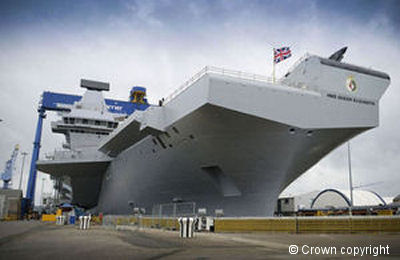 30-Jun-15 -

Defence Infrastructure Organisation has awarded the £31 million contract to dredge Portsmouth Harbour to Boskalis Westminster.
List of aircraft and events at HMD Portsmouth
By Date
|
By Serial
|
By Model