Movies
Airport 1975 (1974)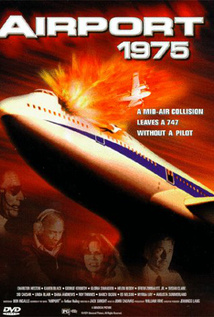 USA - Action / Drama / Thriller
Filmed in Edwards Air Force Base, California, USA



When the pilot of a small aircraft has a heart attack and crashes his plane into the cockpit of a Boeing 747, several members of the flight crew are killed and the pilot is blinded. Miraculously, the 747 stays in the air on auto-pilot with flight attendant Nancy Prior at the controls. Ground controllers, including her boyfriend Alan Murdock, try to teach her the basics but they soon realize they will have to get a trained pilot into the cockpit. Their first attempt fails and Murdock realizes he will have to do it. Meanwhile, various passengers have their own problems including a young girl who is destined to a life saving operation.








Individual helicopters
Model
c/n
Sikorsky HH-53B
65-086
US Air Force
66-14431 1974 in Airport 75 movie
Sikorsky HH-53B
65-088
US Air Force
66-14433 1974 used in filming of movie Airport 1975