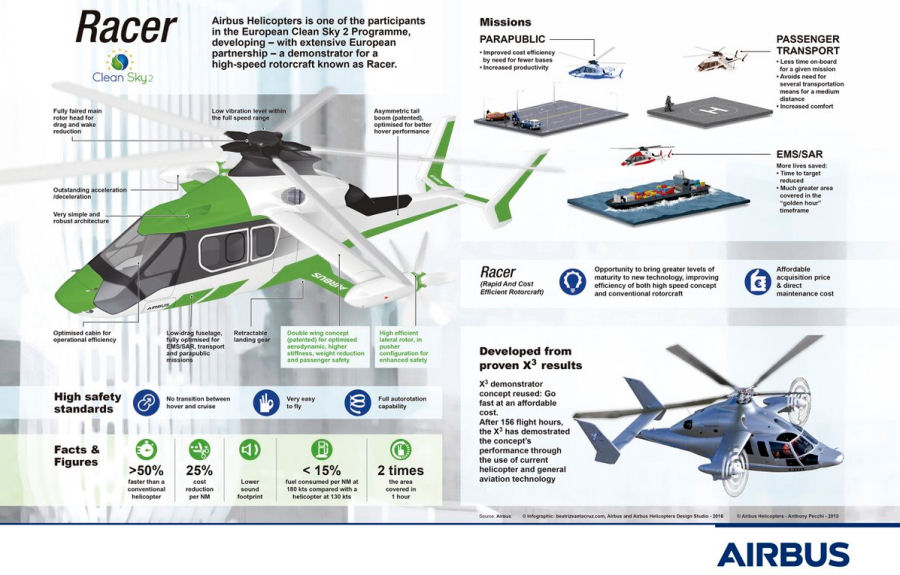 First announced in 2014,
LifeRCraft
(Low Impact Fast & Efficient RotorCraft) will be a large-scale compound rotorcraft demonstrator developed under the lead of Airbus Helicopters in the framework of
Europe Clean Sky 2
Joint Technology Initiative.
On June 2017,
Racer
(Rapid And Cost-Effective Rotorcraft) high speed demonstrator configuration was first unveiled during the Paris Air Show. Prototype scheduled to fly in 2020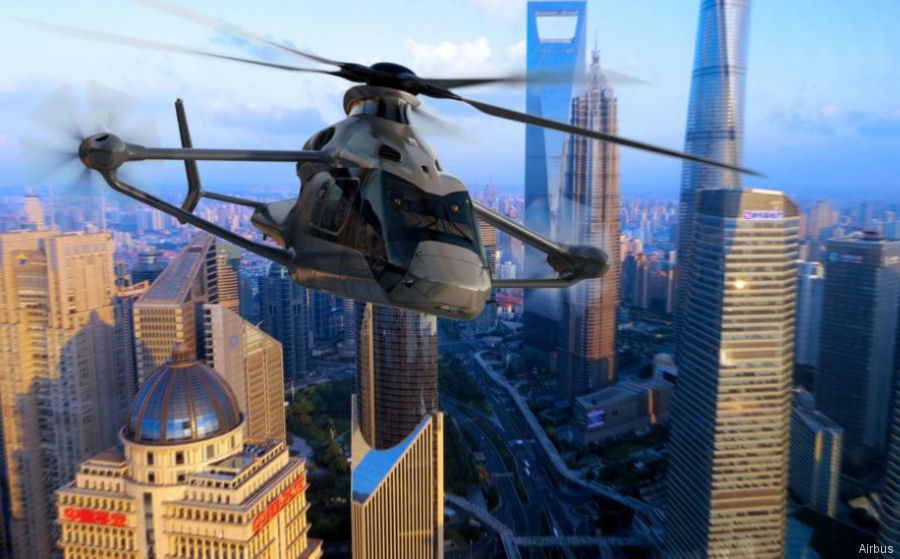 SMART-FTI Test Instrumentation for RACER, 19-Aug-20 : #Racer With a €1.2M funding by the EU's Horizon 2020 programme for the next three years, the SMART-FTI project for Small and medium-sized enterprises (SMEs) will design a specialised aerodynamic flight test instrumentation for the Clean Sky 2 demonstrator Airbus RACER
FURADO Rotor Head for RACER Demonstrator, 29-Jun-20 : #FURADO Racer, a compound rotorcraft demonstrator developed under the lead of Airbus in the framework of Europe Clean Sky 2 Joint Technology Initiative, will have an aerodynamic and sustainable rotor head developed by FURADO (Full Fairing Rotor Head Aerodynamic Design Optimisation) project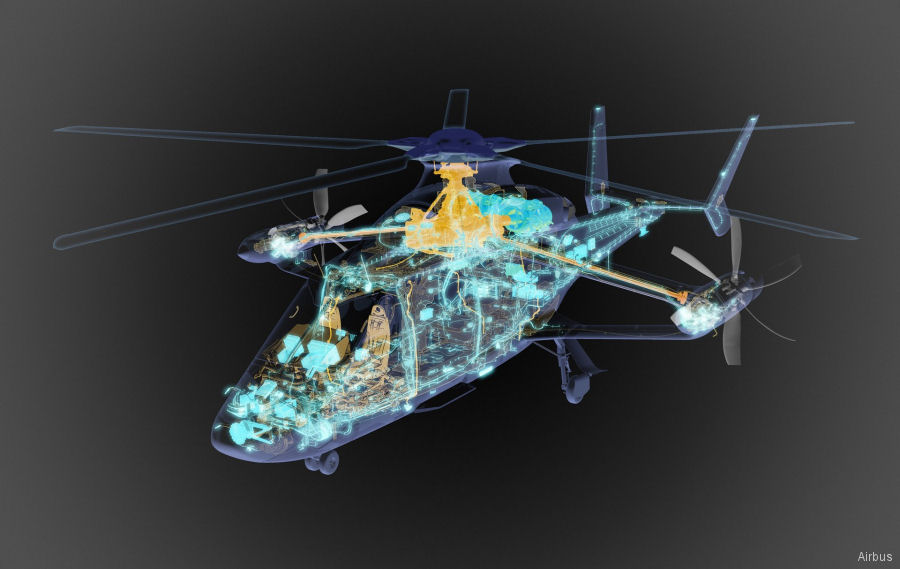 High Voltage at 270 VDC in Fast Helicopters, 14-Mar-20 : #270VDC Airbus RACER, a fast compound helicopter with a cruise speed of 220 knots being developed for the European Clean Sky 2 Fast Rotorcraft Innovative Aircraft Demonstrator Platform, will incorporate a 270 VDC high voltage network from 9eGEN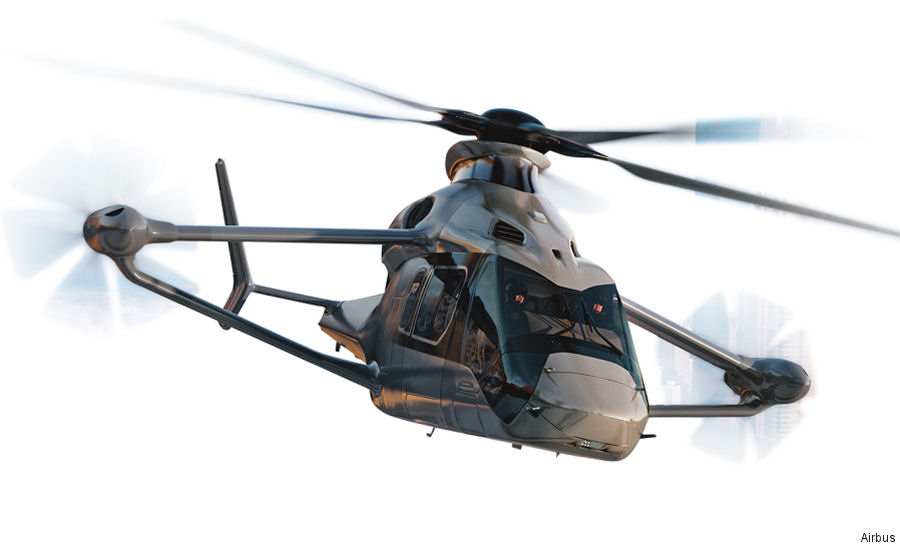 Airbus and EASA Partners for NextGen VTOL, 02-Oct-19 : #NextGeneration Airbus Helicopters and European Union Aviation Safety Agency (EASA) to combine efforts to design the next generation of vertical take-off (VTOL) platforms along with their regulatory framework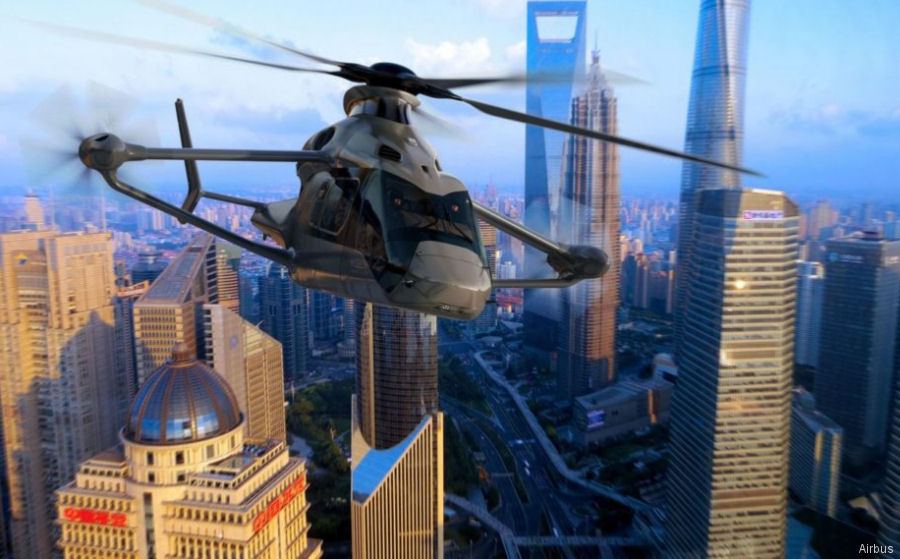 Vision Systems' Composite Unit for Airbus Racer, 26-Sep-19 :

#CleanSky2 Vision Systems takes part in Clean Sky 2 European research programme in partnership with Airbus Helicopters to develop the RACER, Rapid And Cost-Effective Rotorcraft
List of Operators of Airbus Helicopters Racer
From
Organisation with model Racer






Construction Numbers on database of Racer or its versions





1 C/N.