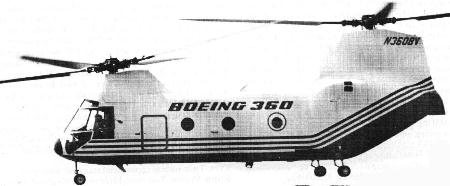 First flown in 1987 the Model 360 is a privately developed advanced technology demonstrator (ATD) rotorcraft, designed to research the companys other rotorcraft programs. The helicopter features advanced aerodynamics and extensive use of composite materials including the fuselage, rotor shafts, blades and hubs. Powered by twin Avco-Lycoming AL5512 engines (4200shp) the Model 360 has a 370km/h cruise speed. The aircrafts advanced cockpit features cathode ray tube displays, multi-function callouts, digital automatic flight control system and other improvements to reduce pilot workload. Also marketed as ATD CH-46X Program Demonstrator. WFU after approx 123 flight hrs because of cracked pylons. Initially stored at the Newcastle Airport, New Castle, DE, now under preservation at the American Helicopter Museum, Brandywine Airport, West Chester, PA.

List of Operators of Boeing-Vertol 360 / CH-46X
From
Organisation with model 360 / CH-46X






Construction Numbers on database of 360 / CH-46X or its versions


C/N
Built as
Year
History
001
1987
N360BV




1 C/N.