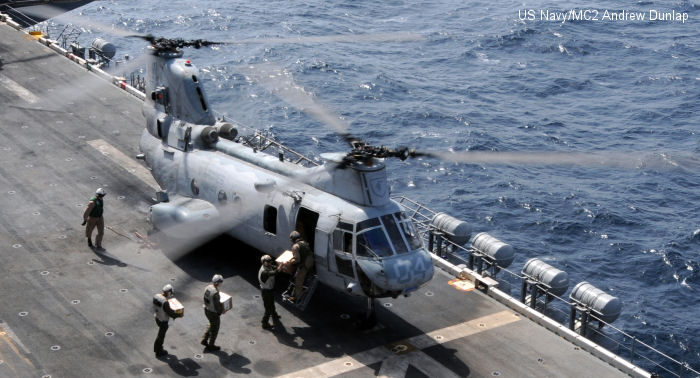 In 1956, Vertol began studies for a new medium-lift helicopter, with the general configuration of the company's HUP-1 Retriever / H-25 Mule helicopter and based on the rotor system of the company's H-21 Flying Banana , but fitted with new lightweight turboshaft engines then in development. The new machine was given the company designation of Vertol Model 107 (V-107) , and company management decided to go ahead with development using their own funds. Construction of the V-107 prototype began in May 1957. The prototype was powered by two Lycoming T53 turboshaft engines, each with 860 horsepower and lent by the US Army. Initial flight of the prototype was on 22 April 1958. The machine was then put through an intensive program of flight demonstrations in the US and overseas. In June 1958, the Army awarded a contract to Vertol for ten production aircraft designated YHC-1A . The Army also issued a request to industry for a larger helicopter, and so Vertol began design work on what amounted to a scaled up version of the V-107, designated the V-114 . The V-114 won the Army competition in March 1959, and Vertol was awarded a contract for a mockup and five prototypes, to be designated the YHC-1B . Vertol was now busy trying to develop two helicopters at the same time, which severely strained the company and led to the Boeing buyout. The number of YHC-1A prototypes was reduced to three (currently under construction) to free up resources for YHC-1B development. The first flight of the initial YHC-1B prototype was on 21 September 1961. The Army had lost interest in the smaller YHC-1A, but Boeing Vertol still felt there was a market for it and continued development. The US Marine Corps was impressed by the machine and awarded the company a production contract in February 1961. The Marines originally wanted to give the V-107 the military designation of HRB-1 , but in September 1962, the Pentagon introduce a new tri-service uniform designation scheme. The HRB-1 became the CH-46A Sea Knight , while the HC-1B became the
CH-47A Chinook
. The five V-114 prototypes became YCH-47As

107M H-46 Sea Knight News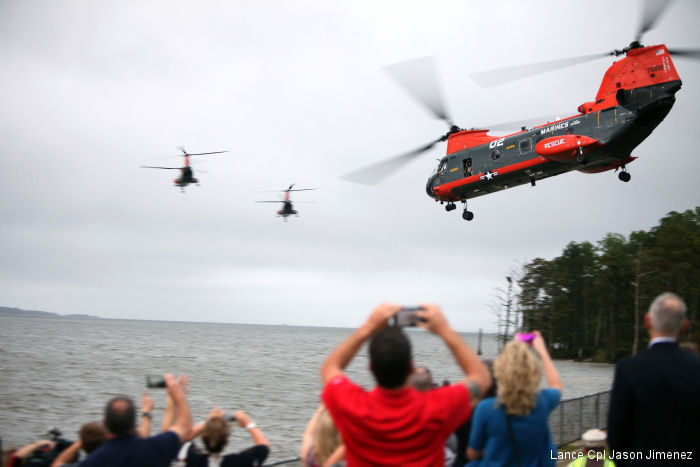 MCAS Cherry Point Conducts Final H-46 Flight, 25-Sep-15 : The three remaining HH-46E search and rescue models, commonly known as "Pedro" assigned to Marine Transport Squadron 1, the last DoD Sea Knights, will retire from service on Sept.29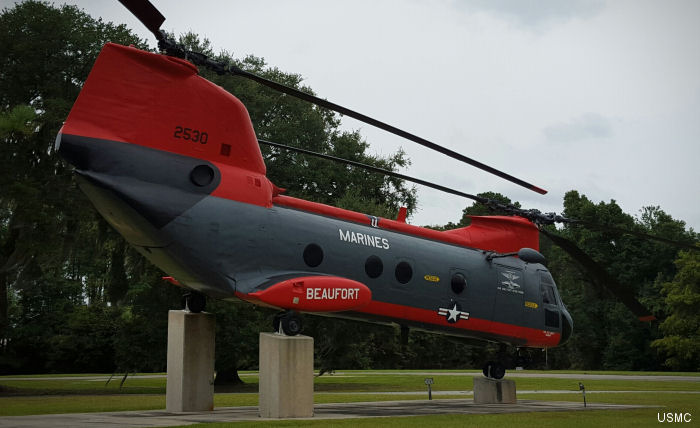 MCAS Beaufort Lone Sea Knight, 17-Sep-15 : A CH/HH-46 Sea Knight helicopter on display outside the MCAS Beaufort Headquarters building in South Carolina is dedicated to Hospital Corpsman 1st Class Kevin Frank.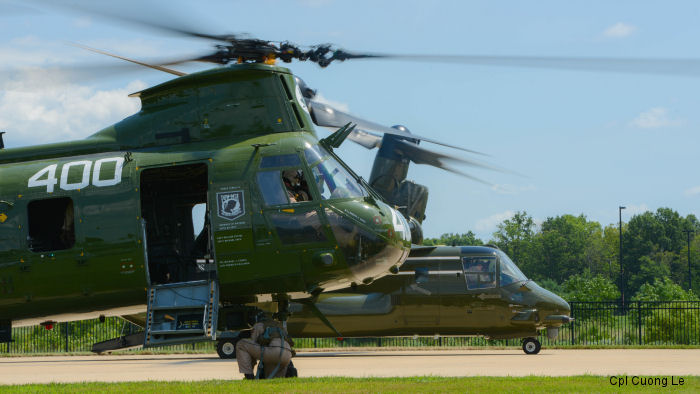 CH-46 Sea Knight Final Flight, 02-Aug-15 :

Marines CH-46 Sea Knight made its final flight to the Smithsonian Institution National Air and Space Museum's Steven F. Udvar-Hazy Center, in Chantilly, Virginia.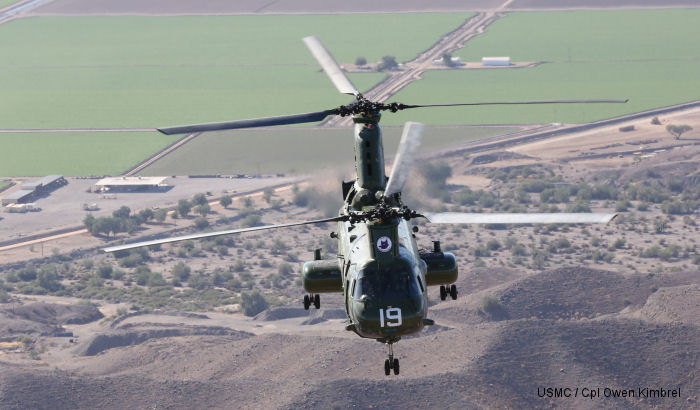 West Coast Last CH-46E to Davis-Monthan, 06-Nov-14 : CH-46E Sea Knight helicopters with Marine VMM-364 squadron made their final flight from MCAS Camp Pendleton, California, to Davis-Monthan Air Force Base, Arizona, Oct. 29 2014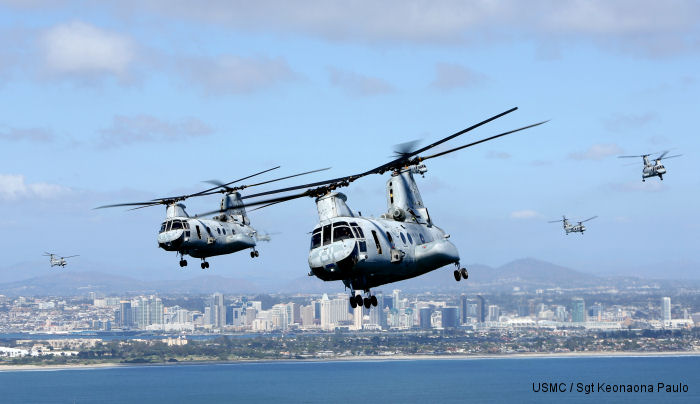 CH-46E Sea Knight final air show flight, 01-Oct-14 :

MARINE CORPS AIR STATION MIRAMAR, CA by Cpl. Owen Kimbrel - For decades, the CH-46E Sea Knight has served our country with honor, reliability and time tested dependability.
Model
Year
History
CH-46A
1962
BV-107M, basic assault transport for USMC, 194 built; including 1 static test airframe (cn 2004). Later 33 redesignated to CH-46D. Revised CH-46 ...

CH-46B
1962
In 1962, the US Air Force ordered twelve XH-49A (based on the BV-107/II) for Texas Tower support and Artic Search And Rescue (SAR) duties. The ai ...

UH-46A
1962
US Navy basic utility version used for vertical replenishment (VERTREP), secondary cargo, personnel transport, & SAR role, 14 built.

CH-46D
1966
Improved assault transport for USMC, 266 built, including 33 redesignated from CH-46A. Limited number transferred to USN for utility and SAR rol ...

UH-46D
1966
US Navy improved utility version; used for vertical replenishment (VERTREP); secondary roles of cargo, personnel transport and SAR, 10 built

CH-46F
1968
USMC advanced transport based on CH-46D, but with improved avionics; 174 built;  30 cancelled. Survivors upgraded to CH-46E from 1979 onward.

HH-46A
1970
Sixty-one conversion of CH/UH-46A for USN/USMC Search & Rescue. Mods included a rescue hoist, doppler radar, search light, extra fuel tankage in ...

HH-46D
1970
SAR conversion of CH/UH-46D for USN/USMC.

CH-46E
1979
~275 CH-46A/D/F models converted to CH-46E for USMC use.

360 / CH-46X
1987
First flown in 1987 the Model 360 is a privately developed advanced technology demonstrator (ATD) rotorcraft, designed to research the companys o ...

HH-46E
2006
SAR conversion of three CH-46E by NARF Cherry Point for VMR-1, MCAS Cherry Point, NC during 2008. One additional airframe converted in 2011. Sla ...
Pedro, retired on September 2015 were the last Sea Knight helicopters to served under MoD

List of Operators of Boeing-Vertol 107M H-46 Sea Knight
| | |
| --- | --- |
| From | Organisation with model 107M H-46 Sea Knight |
| 1962 | |
| 1964 | |
| 1975 | |
| 2011 | |
| 2014 | |
Construction Numbers on database of 107M H-46 Sea Knight or its versions