To replace the
OH-58D
, the US Army launched the Cockpit and Sensor Upgrade Program (CASUP). The resulting F model Kiowa upgrade was largely based on the cancelled
ARH-70
, was intended to be performed from 2011 by the US Army Redstone Arsenal in Alabama to ensure the aircraft service life through 2025. The most visitble change was that the familiar sensor ball, which is mast-mounted above the rotor in older models, has been moved down to the front of the aircraft. The new sensor, called the AAS-53 Common Sensor Payload, included an advanced infrared camera, a color Electro-Optical camera and an image intensifier similar to what is used by Night Vision goggles. Other upgrades are a HTS900 engine with a dual-channel full-authority digital engine-controller (FADEC), the
Bell 427
tail rotor, protective ballistic floor armor and the flares launcher Common Missile Warning System (CMWS). The OH-58F made a ceremonial first flight April 30, 2013.
368 OH-58F Kiowa Warriors were initially scheduled to be "built" between 2017-2025.
On January 2014, Defense Secretary Chuck Hagel approved an Army Aviation plan that includes divesting all OH-58 Kiowa Warrior, taking all AH-64 Apache out of the National Guard and retire its entire training fleet of
TH-67
s and replace those with
UH-72A Lakota
. However, the
KW CASUP
programme was to be continue to execute in accordance schedule approved in August 2013. The first production qualification aircraft build were scheduled to be complete in March 2014 to enter acceptance test procedures but by mid-2014 Bell received a stop-work order for the Kiowa F-model CASUP program.
More info at
Bell 206 in US Army
.
OH-58F Kiowa Warrior News
Specifications OH-58F Kiowa Warrior
List of Operators of OH-58F Kiowa Warrior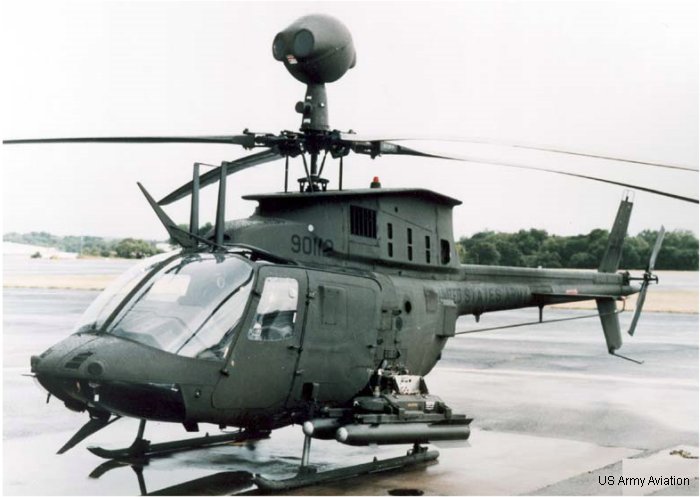 C/N
Year
History
43346
93-00960