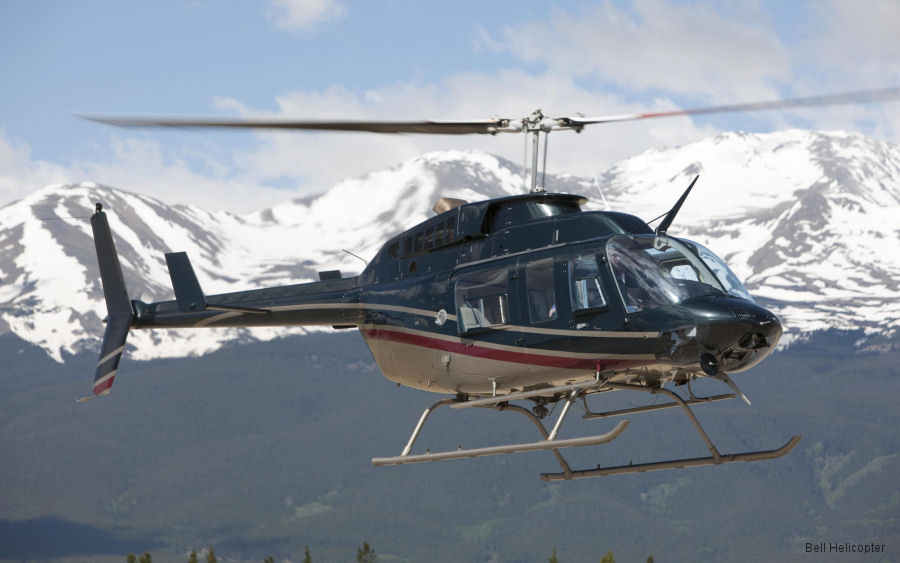 Developed for the 1960s US Army Light Observation Helicopter (LOH) program, the 206 failed to be selected. Bell redesigned the airframe and successfully marketed the aircraft commercially. The new design was eventually selected by the military as the H-57/58 series. As of 2012, more than 6,300 Bell 206s, including all its variants, have been delivered since it began the production in 1967.

Bell 206A : Intial production variant powered by Allison 250-C18
Bell 206B : Allison 250-C20
Bell 206B-3 : Allison 250-C20J
Bell 206L : Stretched, 7-seat, Allison 250-C20B
Bell 206L-1 : Allison 250-C28
Bell 206L-3 : Allison 250-C30P
Bell 206L-4 : transmission upgrade
Bell 206LT : twin engine conversions

Model
Year
History
AMT OH-58A
206 Prototype
1962
D-250 / YHO-4
1962
Prototype Light Observation Helicopter for US Army competition. Lost to Hughes OH-6 Cayuse. Bell developed into civil 206 and the rest is histo ...

206A
1966
First production model of Bell 206 helicopter., In production from 1967-????.

206B Jet Ranger
1967
Agusta AB206
1967
Production at 31 December 1997 totalled 910 ( 556 JetRanger IIs, 184 JetRanger IIIs and 170 AB 206A-1 military derivatives )

OH-58A Kiowa
1968
TH-57A Sea Ranger
1968
206B-2 Jet Ranger
1970
CH-136 Kiowa
1971
OH-58A Kiowa in canadian service

OH-58B Kiowa
1972
CAC ca-32 kiowa
1973
This was a licence-built Bell 206 Kiowa, with the first wholly Australian built airframe rolled out in Mar 1973. Deliveries had commenced to ...

206L Long Ranger
1974
OH-58C Kiowa
1976
The OH-58C is an upgrade of the OH-58A. It has a more powerful engine, as well as flat panel windscreen glass and improved avionics. The flat pan ...

206B-3 Jet Ranger
1977
206L-1 Long Ranger
1977
CH-139 Jet Ranger
1981
TH-57 trainer in canadian service

206L-3 Long Ranger
1982
TH-57C Sea Ranger
1982
OH-58D Kiowa Warrior
1983
The Bell 406 resulted from the US Army Helicopter Improvement Program (AHIP). Airframes received a upgraded transmission and engine, a four-blade ...

TH-57B Sea Ranger
1986
206L-4 Long Ranger
1992
TH-67A Creek
1992
The Bell 206B-3 was the winner of the 1993 US Army's New Training Helicopter ( NTH ) competition.
In 1992 the Army sought a replacement for the UH-1Hs that were being used at the Army Aviation Center. A request for proposal was advertised tha ...

206LT Twin Ranger
1993
407
1995
The Bell 407 is a four-blade, single-engine, civilian utility helicopter. It is based on the Bell 206L-4 LongRanger but with the rigid rotor wit ...

OH-58F Kiowa Warrior
2012
Formerly known as CASUP ( Cockpit and Sensor Upgrade Program ), the F model Kiowa upgrade, largely based on the cancelled ARH-70, was intended ...


5053 C/N on database.